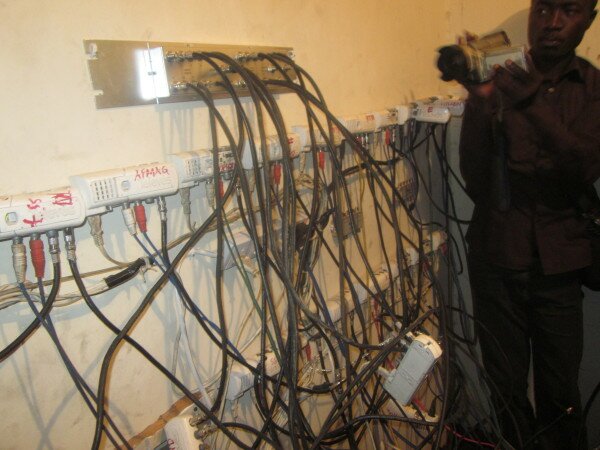 A journalist films part of the illegal equipment seized yesterday by the Kenya Copyright Board
Caretakers of two flats in Nairobi's Donholm and Umoja estates are among the suspects appearing in court today following a raid targeting pirates distributing pay-TV signal without a licence.
The move is part of a new tactic by the Kenya Copyright Board to bring to a close the practice that has seen pay-TV companies lose millions of shillings in illegal connections, some of which use Kenya Power infrastructure.
From yesterday's raid alone, 60 decoders being used by the culprits have been confiscated belonging to various companies including DStv, Zuku, StarTimes and GoTV.
The suspects are accused of distributing signals without a licence to unsuspecting members of the public residing in various storied flats in the eastern side of the city and earning millions from the activities.
Typically a landlord will purchase a genuine decoder and equipment to allow them to acquire the signal only to illegally distribute it to tenants illegally by boosting the signal to accommodate the number of television sets in the building.
In most areas the charges to view various paid channels through this illegal connection is KSh1,000 (US$11.50) with the user even able to view the premium channels in various pay-TV bouquets.
"Illegal distribution of broadcast signals is rampant in the country and if left unchecked can negatively affect the broadcasting industry with dire economic and social consequences on the artistes/film makers and the whole society," read a statement from the Kenya Copyright Board following the raid.
The board adds that it will target building owners whose buildings have been wired with illegal connections to deter further continuation of the vice.
"Based on this understanding, these four organisations will continue to conduct regular raids to deter pirates from making illegal connections."