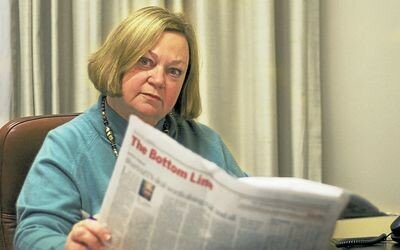 Marian Shinn. Image courtesy of the DA.
The Democratic Alliance (DA) has expressed concern the ruling African National Congress (ANC) is trying to position more party loyalists within the new South African Broadcasting Corporation (SABC).
Speaking to HumanIPO Marian Shinn, the DA's shadow minister for communications, reiterated her belief there are some "excellent candidates", but suggested the ANC was putting party interests first.
The interview rounds, undertaken by the portfolio committee for communications, have been completed and the committee must present 12 names to the National Assembly for approval by September 12.
"Of concern to the opposition parties in the committee is there seems to be an ANC agenda to put loyalties to some of those nominated by its party structures and those of its affiliate organisations, above those with skills and experience appropriate to the needs of the SABC," Shinn said.
"There is also the wish by the ANC to place its young members on the board so they can learn how business operates."
Shinn also described the tight schedule the committee has to work with. The first chance they get to meet to discuss the nominations again is on Tuesday, September 10, due to parliament now being in recess.
She said: "This means our timing is exceptionally tight for us to agree on the names."