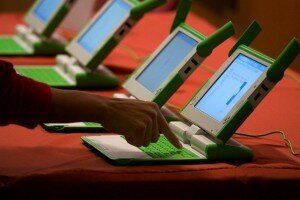 CC image coutersy of Marcin Wichary
Kenyan public primary school headteachers are currently meeting in Mombasa for a week-long conference in a bid to strategise on the upcoming rollout of the one laptop per child initiative.
The heads are expected to discuss the implementation of the Jubilee government's flagship laptop project in public primary schools.
Speaking to the press in Mombasa the Kenya Primary School Heads Association (KEPSHA) national chairman Joseph Karuga said the association is keen to play its role in the implementation of the project.
Last week the primary school head teachers said they would make a major statement on the implementation of the project during the conference.
Speaking on the sidelines of the conference Joseph Tiampati, Ministry of ICT principal secretary, said his ministry had embarked on the task of laying the infrastructure for implementing the project.
"There are different challenges which we are currently facing, especially on the side of infrastructure. Before we roll out the first phase we are planning to ensure schools have electricity and that broadband services is reachable to most," Tiampati said.
President Uhuru Kenyatta is set to address the conference today will also discuss sustainable education, child-friendly schools and effective student leadership.
The meeting comes after KEPSHA accused the government of not involving teachers in the planning stages.
According to Karuga, head teachers "do not want this programme to face challenges like the Free Primary Education programme because of inadequate preparation".