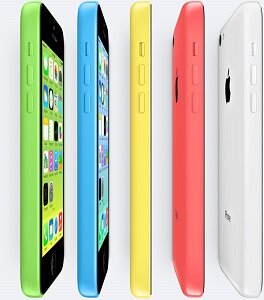 Apple has launched two new mobile devices, including a cheaper smartphone, the iPhone 5c, for the first time.
At a launch event in Cupertino, California, yesterday, Apple also unveiled its new operating system, iOS 7.
The iPhone 5c was launched alongside the high-end iPhone 5s, with Apple describing its new flagship mobile as "the most forward-thinking iPhone yet".
It includes the expected fingerprint sensor as well as an 8 megapixel iSight camera.
"iPhone 5s is the most forward-thinking smartphone in the world, delivering desktop class architecture in the palm of your hand," said Philip Schiller, Apple's senior vice president of worldwide marketing.
"iPhone 5s sets a new standard for smartphones, packed into its beautiful and refined design are breakthrough features that really matter to people, like Touch ID, a simple and secure way to unlock your phone with just a touch of your finger."
The 5c is Apple's first foray into the 'budget smartphone' market, potentially opening up a new audience for the technology giant.
It will also feature the 8 megapixel iSight camera, but retains the 4 inch retina display and contains the A6 chip, compared to 5s's new A7 chip.
"iPhone 5c is everything iPhone 5 was and more, in an all-new design packed with great features," said Schiller.
"iPhone 5c is designed with a beautiful polycarbonate enclosure that looks and feels so solid in your hand."
Both devices will run on the new iOS 7 operating platform, which has new features including Control Centre, Notification Centre and enhanced Photos.
Importantly, the operating system includes iTunes Radio for the first time – a free internet radio service based on music the user listens to on their iTunes.
"iOS 7 is completely redesigned with an entirely new user interface and over 200 new features, so it's like getting a brand new device, but one that will still be instantly familiar to our users," said Craig Federighi, Apple's senior vice president of software engineering.
The iOS 7 update is free for iPhone, iPad and iPod Touch users and will be released on September 18.
The iPhone 5s is recommended to retail in the United States at US$199 for the 16GB model, US$299 for the 32GB and US$399 for the 64GB.
The iPhone 5c's recommended price is US$99 for the 16GB model and US$199 for the 32GB model.
There are no African country launch details as yet.