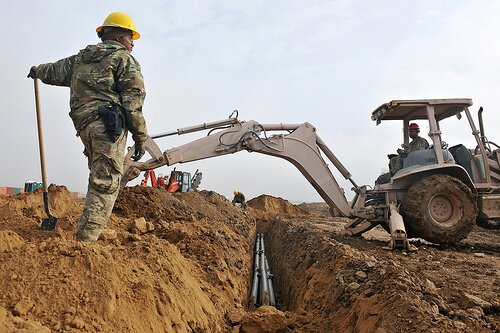 CC image courtesy of USAF Civil Engineering on Flickr
Kenya's leading mobile service provider Safaricom has cautioned county governments that charging high levy fees on the laying of fibre optics cables risked slowly the rollout of broadband services.
Speaking during the company's 5th Annual General Meeting (AGM), Safaricom chief executive officer (CEO) Bob Collymore urged the devolved governments to view the project as a long term investment that will create businesses.
"We urge county governments to resist temptations to levy new fees on telecommunication infrastructure as no broadband provider will invest in such areas where levy fees are charged exorbitantly," said Collymore
"We are urging the governors and all the leaders in the counties not to take a short term approach because operators will avoid those counties and work with friendly ones."
Collymore said high taxes would inevitably result in mobile operators de-prioritising certain counties.
"We have seen one county like Laikipia, who have attempted to charge fees for someone putting fibre cable on the ground. ICT has the ability to uplift the economy in the counties. The governors that I have been able to talk to have already recognised the ability of ICT," he said.
Recently, the government of Kenya launched its broadband strategy, increasing its ICT budget tenfold. By 2017 the plan is to have the national fibre backbone expanded by 30,000 kilometres to reach at least 80 per cent of districts and support the deployment of ICT in all Kenyan sectors.
During yesterday's (Thursday) AGM, Safaricom shareholders passed the 31 cents dividend payout, 41 per cent higher than last year's 22 cents per share, after the telecom posted huge growth in end of year results, registering a pre-tax profit increase to KSh 25.5 billion.