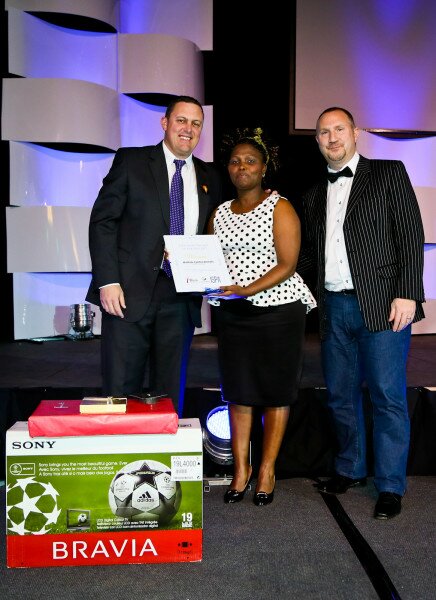 Neil Dundas, managing director of ZACR and Mokhudu Cynthia Machaba, Super Teacher of the Year 2013.
The Internet Service Providers' Association (ISPA) has announced the Super Teacher of the year, marking the end of the iWeek conference in Johannesburg, South Africa.
Mokhudu Cynthia Machaba, of Ngwanamago Primary, located in Limpopo, received the ISPA Super Teacher of the Year award in acknowledgement of her dedication to education.
"I became an educator to help uplift the people I saw around me," Machaba said. "Now that I am an IT literate educator, I am able to help more members of my community, more efficiently."
Fellow ISPA partner CoZa Cares Foundation, former CSI arm of UniformZA/ZA Central Registry, commented on the selection of the winner, praising her for using her newly acquired ICT skills to add value for herself, her learners and her community.
Fiona Wallace, director at CoZa Cares said: "Many of our past ISPA Super Teacher Award recipients started their training without ever having touched a mouse. They then go onto great things which include winning further awards."
An additional award, namely the Special Award, has been given to Chipa Thomas Maimela of Lekota High School.
Candidates for receiving the award were all part of South Africa's leading IT empowerment programme through ISPA and CoZa Cares Foundation to equip educations of under-resourced schools with an "all-encompassing" ICT Capacity Building programme.
The training programme has so far made a difference to the lives of 3,500 teachers as supported by ISPA members.
Finalists from the ISPA Teacher Training programme were sponsored by the association to attend workshops and experience tours during the iWeek in Johannesburg this week.
"All of the winners and finalists…have made a tremendous and positive impact on their colleagues, learners and communities by using the IT skills they have learnt for the benefit of others," Wallace said.
"They have best understood that a skill learnt is of little use if kept to oneself –it must be transferred."