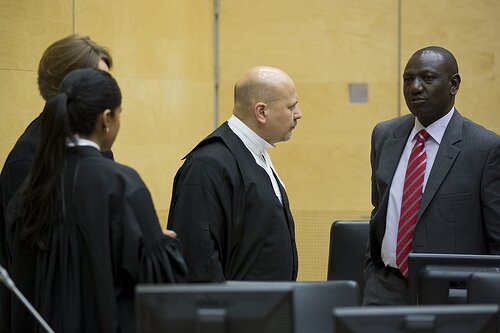 CC image courtesy of ICC-CPI on Flickr
The International Criminal Court (ICC) has issued a stern warning to Kenyan media, bloggers and social media users not to reveal the identity of protected witnesses at the trial of deputy president William Ruto.
Presiding judge Eboe Osuji said exposing witnesses is an act of contempt of court which may lead to prosecution.
"Let me warn everybody; bloggers, journalists or anyone else intimidating witnesses that you will be investigated and prosecuted," Osuji said.
"Revelation of identity of a witness protected by the court is an offense and considered as contempt of court."
Wednesday's warning came amid reports the identity of the first witness, who took the stand on Tuesday, had been exposed in the country.
Fatou Bensouda, ICC chief prosecutor, has previously lodged complaints that some of the defence witnesses were being intimidated in Kenya with some withdrawing from the case in the build up to the trial.
Her first witness, who is said to have been named widely by Kenyan media and on social media, gave evidence from behind a curtain and with her face pixilated and voice distorted on the court video to disclose her identity.
She is being referred to as witness 536 at the trial proceedings.
Ruto and former radio journalist Joshua Sang are accused of orchestrating ethnic violence and co-perpetrating crimes against humanity after Kenya's disputed 2007 presidential election. Both men have pleaded not guilty.