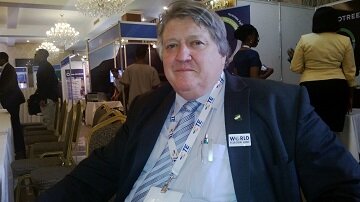 Leigh Smith. Image supplied.
World Telecom Labs is providing the latest VoIP technology to telecoms companies across Africa and beyond. Managing director Leigh Smith spoke to HumanIPO on how telecoms companies can tackle challenges with voice services by optimising their existing capacity.
HumanIPO: What were your thoughts when you first came to the Nigerian telecoms market?
Leigh Smith: In the first year I travelled all over Africa, I went to about eight conferences, like NigeriaCom. When I came to the first NigeriaCom conference held in Abuja, I started talking to some people. We decided to concentrate on the biggest market in Africa which is Nigeria. It took a couple of years to get to know some people but we have recorded a good success by being selected by five out of the six interconnect exchanges.
They've looked at the technology closely and the hallmark is to switch from TDM to VoIP. We realise that the future will be VoIP but we can now do it today, something that some other suppliers are unable to do today.
What can World Telecom Labs offer which your competitors can't?
We have a number of offers one of which is high capacity switching at full load. We also have our own VoIP where you can send high capacity traffic using 6kb per call whereas if you send it on TDM it is 64kb per call. Any congested network you save dramatically the capacity you need to send the traffic. This is really in big need here in Nigeria because all networks are congested. They are building more capacity but they are not building it fast enough.
It is easier if you can optimise the existing capacity, you can do it more quickly than setting up a new capacity.
What do you think was the selling point for your switch that made five out six Nigerian exchanges to embrace it?
One of them was using a Chinese supplier and they bought the equipment few years ago. The switch has TDM and VoIP. But until today, they've not been able to deliver VoIP. Some of the competitors are offering things they are not delivering. But we are delivering VoIP. We had a very good reference from the interconnect clearing house that had used our VoIP gateway for four years now with technically no technical intervention required and they were extremely happy with it. That was a fantastic reference for us to go and sell to the others. The others saw we could do it. That was the major factor.
Why have you not brought the sixth exchange on board?
I think he didn't have the money to invest. He has an existing contractual arrangement with his existing supplier with a special price advantage if he bought over three years or so. He couldn't break that. But he wants to use our compression technology when he sets up his new site in Abuja. I can't say much than that.
How will the technology affect the individual telecoms subscriber in Nigeria?
If we can be a factor in making existing technology more efficient, it means the existing users including myself will not have many calls cut off as we have it now. When you are calling it cuts off over and over again. The reason for that is that there are too many calls for the capacity, it is the stark truth.
Anywhere we have optimisation of the existing capacity, it means the amount of interruptions on the existing capacity would be lower.
How do you think Nigerian telecoms can improve the quality of their voice services?
I read in March that MTN has raised about US$3.5 billion to increase the capacity of their network. Glo and Airtel have also raised funds to expand their capacities. All those funds should be used to increase their capacities. There are so many calls on the networks, they just choke and is normal.
What is the timeline for the switch deployment by the operators?
Some are already using it. The last one that just signed we shipped the switches last week and will be arriving this week. We will be installing them in various locations across Nigeria in October and November.
For those that are already using it, what are they saying about the technology?
They are very impressed with it. When the MTN engineers came to do the interconnect they said it is very easy to work with World Telecom Labs. We know what we are doing.
Which areas of the Nigerian telecoms sector are you considering investing in?
There are a number of projects we are proposing; we are just waiting for the funds to be made available.
Though voice is generating the greater chunk of telecoms revenue in Nigeria, data is slowly catching up. What is your plan to remain relevant even in the data era?
We only do voice, we are a voice company and data is only responsible for about 15 per cent. But we are aware that things could change within a year. But I'm just happy I'm offering a very specialised high quality voice service today. I know the data thing is coming but we have some plans we will be rolling out from next year.
2018 according to projections is the year that data will catch up. Are you worried?
No, I'm not, I would have retired by then!