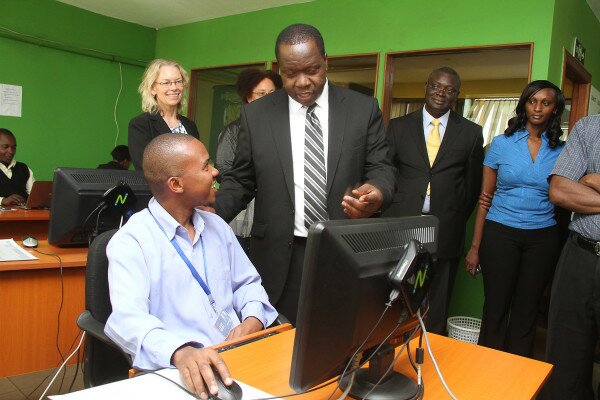 Dr Fred Matiangi (right)
Fred Matiangi, Kenya's ICT cabinet secretary, has lauded Digital Divide Data Kenya, a local business processing and outsourcing (BPO) company for championing the digital jobs agenda.
Speaking during a fact-finding tour at the BPO to highlight how the internet is helping solve unemployment in the country, Matiangi said the government would formulate the right policies to facilitate easier setting up of BPOs.
"I am impressed by the direction ICT is taking in Kenya towards eliminating unemployment among the youth and contributing towards the Vision 2030 social pillar," Matiangi said. "The government will ensure policies are put in place to make BPO easier and faster for both local and foreign investors."
Heather Grady, vice president of the Rockefeller Foundation, was also on the tour because the foundation is supporting the project through their digital jobs initiative to reduce high levels of unemployment.
She said: "It is important to underscore the social impact that this has achieved and underscore what our Digital Jobs Africa initiative aims at accomplishing; to empower young people with the skills and professional experience needed to improve their lives, while simultaneously providing value to clients being served by the sourcing business."
Grady added the foundation was looking into forming more partnerships with government and stakeholders in the ICT sector to build inclusive business practices in the sector.
Rockefeller Foundation's Digital Jobs Africa initiative, which was launched in 2013 during the World Economic Forum for Africa, has invested US$100 million and is currently being rolled out in six African countries – Ghana, Morocco, Egypt, Nigeria, South Africa and Kenya.