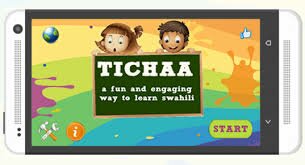 A Kenyan app development firm has launched Android app MyTichaa, looking to teach young children Swahili through picture puzzles.
MyTichaa is a free app available on smartphones and tablets, which uses picture puzzles of the likes of animals and furniture to make the learning of Swahili more enjoyable for young children.
Co-founder Kevin Mukhwana spoke to HumanIPO about the journey to launching Kenya's first Swahili learning app.
HumanIPO: What was the reason behind the launch?
Kevin Mukhwana: The app was launched by team Thirst Interactive taking part in the Safaricom App Wiz Incubation Challenge. The idea came about when I watched my cousin Emma, a young mum in her early 30s, struggle to teach her little three-year-old girl Swahili. Emma is your typical middle class mum that has an 8-5 job.
Every evening after work, she has to prepare dinner for her family and attend to other chores. But this is normally the time her curious daughter follows her around seeking attention and asking all sorts of questions, like names of different objects in the house. Emma recently discovered that the only way to squeeze in a few minutes for herself is to give her the smartphone so she can play games.
Then Emma thought to herself "if only there was a way my daughter could learn while playing with the phone!" To help Emma and many parents in her shoes we created MyTichaa, which is an educational mobile app that introduces kids aged 3-7 years to the Swahili language in a fun and engaging way.
What are the benefits as compared to the conventional teaching methods?
The only option parents have had is using traditional methods like textbooks or teaching their kids as they come across the objects in everyday life, which consumes a lot of time and is less engaging to the kids. Teaching kids through smartphone and tablet apps is much easier as it is more engaging and entertaining at the same time.
Benefits of using MyTichaa are:
- Perfect for preschoolers. Children of kindergarten age and in the early grades may like it, too,
- Play together with your child so that you can bond,
- Helps kids develop spatial recognition, matching, tactile, and fine-motor skills, Learn by playing.
- When your child is playing and learning, you may take a rest.
Apart from Kenya is it used anywhere else?
MyTichaa has 78 active users from the following countries:
- Kenya
- United States
- United Kingdom
- Nigeria
- Germany
- Tanzania
- Norway
- Sweden
- Uganda
How much does it cost?
The current version is free but we are working on a paid version that will retail US$2 to US$3.
Has it had any tangible impact in the market?
Since its launch two weeks ago we have received very positive feedback on our Facebook and Twitter pages, Google Play Store reviews.
Also using analytics we have been able to track some useful metrics: 78 active users, the average time a user spends using our app before closing it is around seven minutes, on average a user completes six puzzles per session.
Why this particular age group?
We targeted this age group because we found that there were other applications targeting this group, but for English and French, and none for Swahili. We also feel this age group is also being exposed to smartphones and tablets at a very tender age and therefore a good time to start learning using mobile apps.
Any plans to have a similar app for other subjects?
Yes we plan to have other apps in different Swahili topics, move to an older age group and also make some for adults too in future as suggested by some of our users.
What do you think of the tech scene in Kenya?
I think the Kenyan tech scene has really grown over the past few years, making it much easier for first time entrepreneurs to succeed. There's a lot of support from various stakeholders that form part of the community.
How would you like to see it change?
Involvement of successful entrepreneurs with the tech community as mentors, more support for first time entrepreneurs with mentorship, education & investments.
What are some of the hindrances to the growth of tech in Kenya?
Government regulations on taxes and company formation.