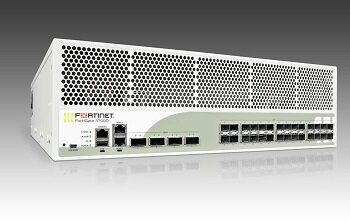 The FortiGate-3700D. Image supplied.
Fortinet, the US-based network security company, has launched what it calls the world's fastest data centre firewall appliance, the FortiGate-3700D.
Fortinet said in a statement the new appliance is the first to utilise the latest FortiASIC (application-specific integrated circuit) network processor technology in order to deliver "breakthrough" internet protocol version four (IPv4) to IPv6 performance parity.
"Fortinet is the first network security company to deliver 100Gbps firewall throughput and 40 GbE ports in a compact appliance, which redefines the standard for price per gigabit," said Fortinet.
"This performance improvement lowers both capital and operational costs for customers while providing the highest performance and lowest latency available."
Because data centres require high availability in order to maintain application service level agreements, the FortiOS 5 provides for multiple forms of high availability.
"To simplify the management and analysis of physical and virtual security infrastructures deployed in large data centres and multi-tenant cloud environments, fortinet provides single-plane-of-glass management with the FortiManager family of physical and virtual management devices," said Fortinet.
The FortiManager's centralised management enables security administrators to both manage and configure thousands of physical appliances as well as virtual machines.
"For some time our data centre customers have been asking us for higher firewall throughput and high speed port connections as they consolidate data centres around a 40 or 100Gpbs switching infrastructure… We have an aggressive roadmap to deliver on these requests starting with the FortiGate-3700D," said Michael Xie, founder, chief technology officer (CTO), and vice president of engineering at Fortinet.