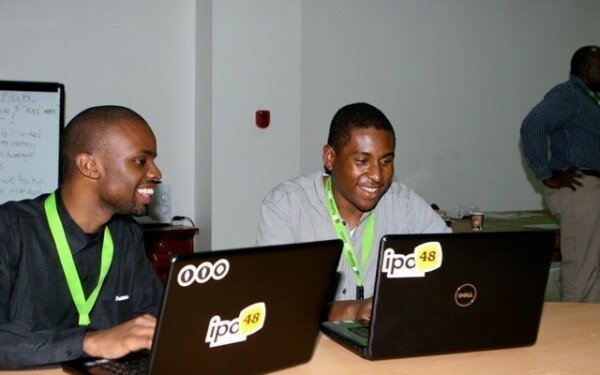 The music platform that has grown out of the former Kenyan Lyrics introduced to the IPO48 one of the platform' s most active users – Ghafla! s founder Mr Majani.
He did not think much to give advice to the other startups, too. And every time he did, one could see the analysis and thorough work done behind it.
We are glad to see them among the prized winners of IPO48 Nairobi 2nd edition and wish their team the best of luck with their project on launching a website containing local entertainment content and digital downloads from East Africa.
Like a lot of the teams, Mr Majani and his equally well-spoken team-member Lyosi Mwedekeli, they also found team-members through the platform and the IPO48 event – none other than iHub' s own iTosh is behind their design. And last, but not least, Mr Majani' s sister, who has legal background, also joined, helping them with customer relations and legal questions.
Although the Ghafla! duo got only 4-5 hours of sleep throughout the whole IPO48 weekend, Mr Majani could not be more content:"It has been such a good experience – see how all the people participating are upping their standards and raising their levels."
Mr Majani also found another positive little detail in the event – the fact that people left their gadgets and technology lying around and no thefts happened.
Check out Ghafla!'s pitch on IPO48 Nairobi opening day here: nairobi2011.ipo48.com/Ghafla