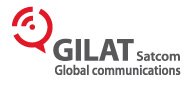 Gilat Satcom will unveil new services to improve broadband connectivity and reduce costs aimed at small and medium sized enterprises (SMEs), large businesses and governments in West Africa next week.
The services will be announced at a HTA trade body event in Niamey, Niger, bringing together players in the telecommunications, energy and agriculture industries with the aim of providing expert advice on how to develop the country's economy.
The Israeli-owned company will also showcase its satellite and fibre services, which it has deployed in the urban and rural areas through its partners Liptinfor and Alink, which provide voice and data services in the West African country.
Eran Yoran, Gilat Satcom's marketing manager, said: "This show in Niger is a wonderful development and clearly demonstrates that the growing demand for high quality global communication services is yet to be met.
"We have reliable business partners in the country and we are here to show our support for them."
According to the United Nations' Department of Economic and Social Affairs, Niger has only 212,480 internet users and less than nine per cent teledensity.
Gilat Satcom, which is headquartered in Lagos, has an extensive fibre network and is among the few providers with an east to west coast and international fibre connectivity with the WACS and EASSy undersea cables.