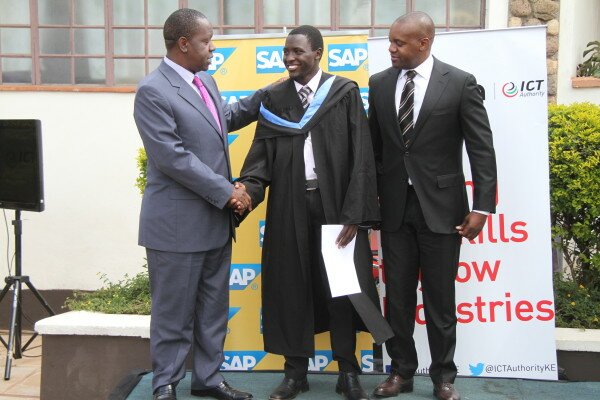 SAP Africa's Skills for Africa Programme has presented its first group of 52 students with SAP certification at a graduation ceremony at Nairobi's Multimedia University.
Fred Matiangi, Kenya's ICT cabinet secretary, attended alongside SAP Africa chief executive officer (CEO) Pfungwa Serima, SAP East Africa managing director Andrew Waititu, and vice chancellor of Multi-Media University Professor Walter Oyawa.
The programme aims to improve employability of young Kenyans by equipping them with specialised ICT skills that are in demand.
"We are looking forward to achieving the goals set out in Kenya 2030," said Matiangi. "These goals however will not be attained on schedule unless we rationalize our education and training in line with the vision 2030 dream."
SAP's idea was first conceived in Kenya by the ICT Authority and SAP East Africa, and officially launched in September 2012, training bright students from disadvantaged backgrounds and women as well who cover technology, business, finance and logistics as well as critical soft business skills.
In reference to the software developer course dubbed Chipuka, Matiangi highlighted the need for ICT in all sectors in order to compete which will only be achieved by producing young people who are market ready.
"SAP Africa recognises that addressing education and skills training is one of the best ways to deal not only with skills shortages facing the technology industry, but also help address Africa's chronic youth unemployment issue," said Pfungwa Serima, SAP Africa chief executive officer (CEO).
The programme has also partnered with the World Bank to amplify efforts to develop world class IT and business skills.
SAP has committed to support the programme that cost US$19,000 per student by training at least 100 graduates each year for the next four years.
Multi-Media University works in conjunction with the programme by providing training rooms, accommodation and staff to shortlist scholarship applications.
"We do this by equipping our students with the most up-to-date information," said Vice chancellor Oyawa.