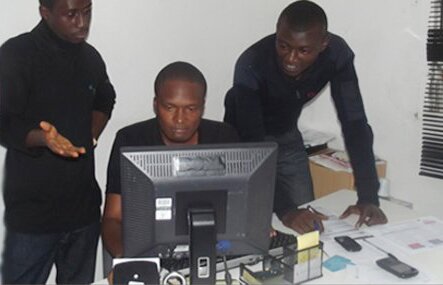 Clifford Ako, Quincy Kwende and Nara Laurence of team Wasamundi.
Nara Laurence, co-founder of Cameroonian online city guide startup Wasamundi, believes SMS is no "pie in the sky" when it comes to monetising a businesses and is at the centre of the company's business model.
Wasamundi is an online and mobile platform which provides information to Cameroonians on a range of topics including hotels, restaurants and properties and is currently looking to expand more into education and banking.
Speaking to HumanIPO, Laurence said with the mobile revolution continuing across the continent taking advantage of SMS to spread information is vital.
"SMS is no pie in the sky. It is the future medium," said Laurence. "It is a unique and the most popular form of communication. Since 2010, hundreds of millions of texts are sent every minute worldwide, and it is increasing which means that it is working.
"We at Wasamundi don't only believe but already using SMS and have added it as a new interface to local search. We see SMS as the future of local search in Africa whereby information on anything can be gotten with just 1 SMS."
Regarding the startup scene in general in Cameroon, Laurence believes there is "huge potential" and as more institutions integrate computer science and web and mobile development into their curriculums, more talented individuals will be able to hone their skills.
Laurence said: "The interest of giant tech companies like Google and Microsoft is a signal of the potential of the tech scene in Cameroon. We are also seeing telecom companies coming into the scene.
"Cameroon as a country with 2.5 million people accessing internet today out of 30 million clearly means there is still a huge potential for tech startups in the scene."
Regarding what obstacles stand in the way of the tech startup ecosystem in the West African country, Laurence highlighted access to funding as the "major" hurdle, as well fast and cheap internet access and the development of e-payments.