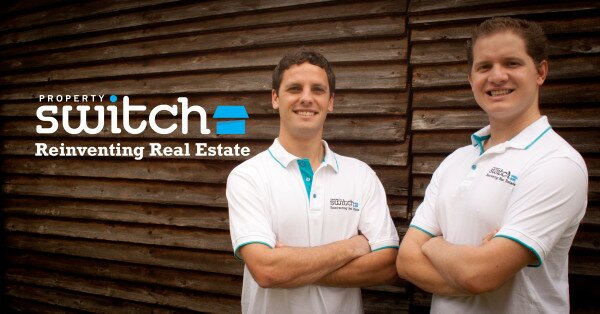 Property Switch co-founders Graeme Tennant and Jan Claasen.
Graeme Tennant, managing director of Property Switch, believes his company can disrupt South Africa's property market by introducing relatively simple innovation and a web-based business model.
Tennant co-founded Property Switch with Jan Claasen, now operations director, in November 2012, with the company officially launching in September this year.
The site offers online registration, either through email or Facebook, followed by a visit from a consultant to the property, who takes photographs and gets down relevant information to help the company put together a valuation.
A profile of the property is then posted onto the platform with it being allocated an account manager who liaises with the owner and potential buyers.
Speaking to HumanIPO, Tennant said doing the majority of work and communication online and over the phone ensures operating costs are reduced, with savings passed onto the seller in the form of a 2.75 per cent commission rate. Standard industry rates usually range between five and eight per cent.
"The property sales market is a very traditional industry and one that in our view has lagged behind most other industries in terms of implementing technology," Tennant said.
"We saw an opportunity for technology to play a much greater role in property transactions and the real estate agency service. We believe that many of the tasks conducted by the estate agent can be replaced or improved through using the internet and technology."
Tennant said Property Switch could be viewed as a combination of Gumtree, ReMax and a marketing company.
"Unlike Gumtree we take control of what is uploaded by creating property profiles from photographs and information collected by our consultants who visit the property," he said.
"We take great pride in the quality of our property profiles and do not leave this task up to the public. Our website also includes a unique property mapping function, professional property profile displays, a property tracking system for sellers and is compatible with all mobile devices."
Tennant emphasises however that the online platform is not the full extent of the company's offering and it complements its entire real estate services.
Based out of a single office in Durban, Property Switch currently has consultants based in Johannesburg, Durban and Cape Town.
"On a limited marketing budget have made solid progress and we have a number of pending sales in the pipeline," Tennant said. "We plan on using the income generated to implement a broader scale marketing strategy give the business greater exposure.
"With greater exposure, I expect to see Property Switch really take-off in the next six months."