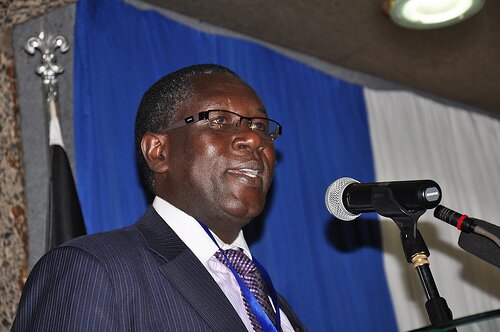 CCK Director General Francis Wangusi CC image courtesy of chimgimode2007 on Flickr
The Communications Commission of Kenya (CCK) has announced it is seeking new licensing conditions that will see internet service providers (ISPs) bring all websites that are hosted outside Kenya into the country's domain in a bid to fight cybercrime.
Speaking yesterday at the Information Security & Public Key Infrastructure Conference in Nairobi Francis Wangusi, director general at the CCK, said the regulator will make it mandatory for all firms to host their websites in Kenya and it is in the process of establishing a new body that will manage the internet addresses.
"Cybersecurity and cybercrime are challenges that emerge with the advent of the internet as they reverse the important gains associated with the use of internet services," said Wangusi.
"In order to keep our local traffic within the country and make it easy for us to trace cyber criminals, we are proposing in future that all ISPs be compelled to have their clients websites hosted locally."
Wangusi said cyber security is a global concern and a key item in the ICT agenda of many nations.
"You will agree with me that concerted efforts in the effective management of cyber security and collaboration at the national, regional and international levels are key to winning the fight against this menace," said Wangusi.
The regulator said the hosting of websites outside Kenya has made it difficult to trace cybercriminals, exposing the country to losses.
Wangusi said the National Computer Incident Response Team Coordination Centre is facilitating the deployment of a national public key infrastructure (PKI), a system for the creation, storage and distribution of digital certificates.
"Upon its completion, PKI is expected to provide locally available and cheaper digital certificates and signatures to facilitate safer online operations and services that are within our national laws (jurisdiction)," he said.
HumanIPO reported during the African Internet Governance Forum that Kenya will be rolling out digital signatures by the end of the year to ensure an online identity and verification system to enhance security for online transactions, with the country losing almost KSh2 billion (US$23 million) annually to cybercrime.
Fred Matiangi, cabinet secretary at the Ministry of ICT, said there is a need for the country to enact appropriate laws that strike a balance between individual rights to privacy and the collective good of the country and its citizens.