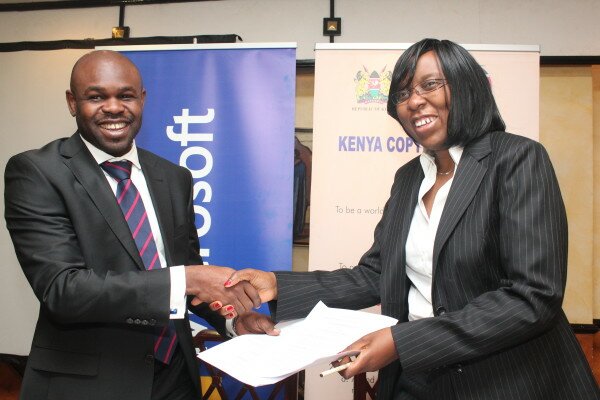 Kunle Awosika Microsoft Kenya country manager and Kenya Copyright Board Executive director Dr. Marisella Ouma
Microsoft Kenya and the Kenya Copyright Board (KECOBO) have entered into an agreement to work together in a bid to fight software piracy in the country, which could lead to raids on offending organisations.
Speaking today (Thursday) during the signing of a Memorandum of Understanding (MoU) between the two organisations, Marisella Ouma, KECOBO executive director, said the partnership will enable them to work together to activate continuous programmes and campaigns for educating the public on the risks and penalties associated with infringement of software copyrights and trademarks.
"We want to educate Kenyans on the benefits of genuine software to businesses in terms of reliability and security as well as other associated risks for businesses and consumers when using counterfeit software," Ouma said.
The three-year deal will see Microsoft support KECOBO to acquire the necessary skills and tools to assist in the fight against piracy and help to reduce software piracy as well as spur economic growth in Kenya.
The two organisations will also invest in training of journalists, software reseller channels and government procurement managers in order to create awareness around the effects and dangers of pirated or counterfeit software.
Kunle Awosika, Microsoft Kenya country manager, said: "Microsoft has an offer of between 10 per cent to 15 per cent off on Windows 8, Office 2013 and Office 365 which runs until December 31, 2013."
The move will also see consumers get free education on the importance of protecting intellectual property rights and also protect them from unfair and misleading market conduct, specifically with regard to software piracy.
Microsoft also declared an amnesty to enable those who are using unlicensed software acquire genuine software.
The amnesty will run until January 15, 2014, after which the two organisations will conduct a joint raid and arrest organisations that are not using genuine software.
Daniel Kamau, Microsoft's anti-piracy lead for the West, East and Central Africa region, said Microsoft and KECOBO will run a joint PR campaign to keep the public informed on the importance of intellectual property protection as well as empower institutions that are involved in the protection of intellectual property.