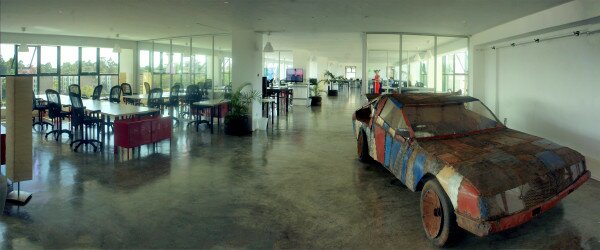 The 88mph hub in Nairobi, Kenya
Four tech startups will pitch for investment at the 88mph Nairobi Demo Day today (Thursday), after completing three months of the accelerator programme giving them access to new networks and mentorship.
Of the eight startups that joined the programme in September, four have made it through and will pitch alongside other 88mph startups that have taken part in previous accelerators.
The four startups are Yum, an online delivery service, BookNow, an online bus booking company, TouristLink, a social marketplace which matches travelers with local travel services and mbet, an online sports betting bookmaker, while older startups include Movas, Gamsole, Mdundo and Ghafla!.
Nikolai Barnwell, 88mph Nairobi programme manager, said: "The idea is that we also want investors to get a glimpse of the bigger picture.
"Instead of them just seeing companies that have not taken off we want to show them the companies we invested in them two years ago so that they can get the image of the company's over time.
"This year we have not invested in any good ideas, we have only invested in good entrepreneurs. We have been making this mistake in investing in good ideas for a while thinking we can make the entrepreneur great as well."
He said that more than 90 investors, mostly local, have confirmed attendance for the event today which kicks off at 6pm EAT.
Francis Gesora, co-founder of BookNow, said: "We expect to articulate our business to all participants and to have very engaging discussions with the investors. We expect to make partnerships that will allow us to grow our business at into the future."
88mph was founded in 2011 by Danish investor Kresten Buch with the aim of supporting entrepreneurs from Sub-Saharan Africa to build products and businesses that positively impact business and consumers across the geographic and socio-economic spectrum.
The fund has invested more than US$2 million in three accelerator programmes in Nairobi and Cape Town and is expected to launch a programme in Lagos, Nigeria, in 2014.