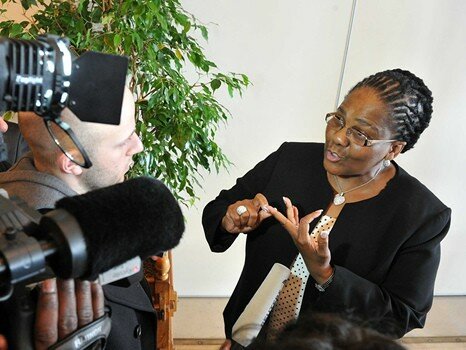 SA transport minister Dipuo Peters. (CC image courtesy of GovernmentZA on Flickr)
The name of South African transport minister Dipuo Peters is being used in a 419 scam which claims the minister has US$30.5 million which she needs help in moving.
419 scams are a type of advance fee fraud, with the name derived from the article of the Nigerian criminal code dealing with fraud.
The South African Press Association (SAPA) reports the scam emails are being sent from the email address [email protected], claiming the recipients' contact details were obtained through the "foreign information exchange in South Africa on a personal request".
"Firstly, let me start by introducing myself as Mrs. Elizabeth Dipuo Peters," the email reads.
"I am visually impaired widow, a mother of two children and former Premier of the Northern Cape Province (22 April 2004 – 10 May 2009) under the auspices of the President of South Africa, Mr. Thabo Mbeki, and now elected as a Minister of Energy of the Republic of South Africa since 11 May 2009.
"After due deliberation with my children, I decided to contact you for your assistance in standing as a beneficiary to the sum of US30.5 million.
"I will divulge information to you when I get your full consent and support to go for a change of beneficiary and subsequent transfer of the funds into a comfortable and conducive account of your choice," the impostor said.