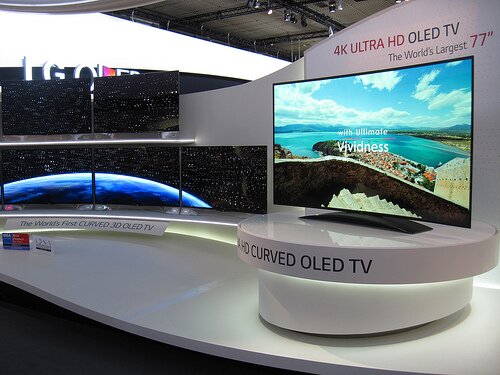 CC image courtery of robpegoraro on Flickr
LG Display has reported a 56 per cent year-on-year decrease in operating profits for the fourth quarter of 2013, with revenues also declining 19 per cent compared to the previous year.
Presenting its unaudited earnings results for Q4 2013 ending December 31, 2013, LG revealed a weak quarter, but said its overall annual earnings in 2013 still achieved growth on the previous year.
"Despite market uncertainties due to the challenging economic environment, our annual operating profit in 2013 increased compared to the previous year. This was mainly achieved by focusing on technology differentiation, such as IPS and FPR 3D, and strengthening our cost differentiation," said Dr Sang Beom Han, chief executive officer (CEO) of LG Display.
Operating profit for Q4 came to KRW257 billion (US$239 million), down 56 per cent on Q4 2012, and also down 34 per cent on the preceding quarter's KRW389 billion (US$362 million).
However, LG said the overall annual operating profit of KRW1.163 trillion (US$1.1 billion) for 2013 actually represents a growth of 28 per cent as compared to 2012, with the company also highlighting the period as the seventh consecutive quarter of operating profitability.
Revenues for Q4 were also down by 19 per cent compared to Q4 2012, hitting KRW7.079 trillion (US$6.58 billion), although compared to Q3 2013 revenues saw eight per cent growth.
"We will continue to achieve future competitiveness by securing an advantageous position in new markets, including commercial and automobile displays, while actively pursuing Ultra HD TV and OLED TV businesses," said Han.
Net income fell to KRW71 billion (US$66 million) in Q4 2013 compared with net income of KRW320 billion (US$297 million) in the corresponding period of the previous year, while earnings before interest, taxes, depreciation and amortization (EBITDA) declined 38 per cent year-on-year to KRW1.124 trillion (US$1 billion).
LG said LCD TV panels accounted for 37 per cent of its revenues in the fourth quarter 2013, monitors contributing 17 per cent, mobile applications 15 per cent, notebook PCs 11 per cent, and tablets 20 per cent.
"In 2014, industry panel demand on an area basis is expected to grow by a mid-single digit percentage from the previous year driven by continuous larger-size panel demand, while panel supply is also expected to grow by a mid-single digit percentage. As a result, overall supply and demand situation is expected to be similar to last year." said Don Kim, chief financial officer (CFO) of LG Display.
"Looking ahead, we expect profits in the first quarter of 2014 to decline quarter-on-quarter due to traditional seasonal decline in panel shipments and price, but we will do our utmost to overcome the challenges by continuous product and cost differentiation strategies."