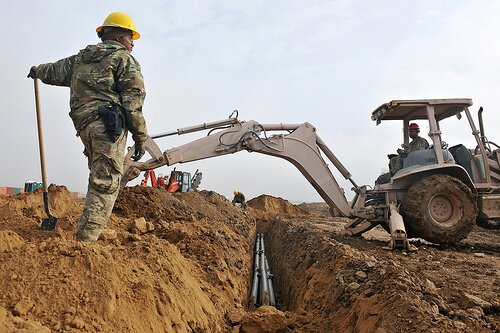 CC image courtesy of USAF Civil Engineering on Flickr
The Burundian president has officially launched the first phase of the country's fibre optic network currently under construction, which he says will accelerate the country's economic growth and transform Burundi into a regional ICT leader by 2025.
Speaking at a launch ceremony in Bujumbura, President Pierre Nkurunziza said the fibre optic network is a necessary public facility, comparing it in importance to the rail and road networks, saying the network will open the country to new technological possibilities and by extension lead to social and economic development.
Nkurunziza reiterated the government's commitment to achieving universal access to ICT by 2025 and said it would continue to mobilise all resources with this aim.
"In what concerns us, we reaffirm our firm commitment to mobilising the resources at our disposition in order that our policies regarding ICT will be crowned with success," he said.
"Our vision is to achieve universal access to ICT to accelerate the economic growth of our country with a view to transforming it into a centre of excellence and a regional point of reference in the ICT sector by 2025."
He called upon industry players to work towards the development and implementation of technologies in their respective workplaces, with a view to achieving widespread daily use of ICT in the workplace and reap the rewards offered by new technologies.
He also asked operators and service providers to ensure end users would benefit from quality high speed internet at a reasonable cost.
Nkurunziza asked the population, public servants and figures to participate by taking care of the infrastructure being developed for their use, and to prepare themselves for the adoption of ICT in their daily activities.
HumanIPO reported in 2012 on the announcement of the Burundi Backbone System, which sees the government partner with operators in a private-public-partnership, backed by the financing of the World Bank.
Construction of the first phase of the project began in August 2012, with the official launch of service marked this week.
"I would like to finish by launching a vibrant appeal to our partners and friends of Burundi to continue to support our activities in the ICT sector," the president said.