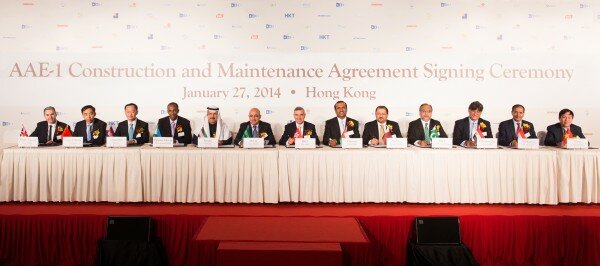 A global consortium of 17 companies have signed an agreement to build the world's first cable system linking all major South East Asian countries to Africa and Europe via the Middle East, in a bid to boost Asia-Africa trade.
The Asia Africa Europe-1 (AAE-1) subsea cable system will span 25,000 kilometres connecting South East Asia to Europe through the Middle East and North Africa, with landing stations planned for Hong Kong, Vietnam, Cambodia, Malaysia,Singapore, Thailand, India, Pakistan, Oman, UAE,Qatar, Yemen, Djibouti, Saudi Arabia, Egypt, Greece,Italy and France.
The system is due to be completed by 2016, relieving pressure on the congested systems currently available connecting the various countries along the planned cable route.
It is intended in particular that the new system will provide support for a period of "unprecedented growth" in bilateral trade between Asia and Africa, by providing reliable, low-latency connectivity along the busy trade route.
The consortium consists of service providers from across the world, including China Unicom, Telecom Egypt, Etisalat, Omantel, Ooredoo and PCCW, with the latter hosting a signing ceremony in Hong Kong to mark the agreement.
"The AAE-1 project builds on our already extensive strategic cooperation with other consortium members. Not only will the construction of the AAE-1 complement our existing network and ensure added resilience and security, it will also provide us with new and extensive coverage for future expansion," said Marc Halbfinger, PCCW Global's chief executive officer (CEO).
"In particular, it will provide much needed capacity to support the rapid growth that we are seeing in cloud computing and Content Delivery Networks (CDN), driven by our strong presence in the media industry. AAE-1 is set to revolutionise communications between Asia and Africa, and the rest of the world, and confirms PCCW Global's commitment to invest in the region."