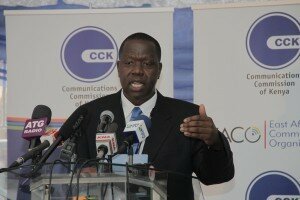 Fred Matiangi, cabinet secretary for ICT. CC image courtesy of CCK
The Information Communication Technology Association of Kenya (ICTAK) has challenged the appointment of board members of the country's ICT Authority.
The Kenya ICT Authority, under cabinet secretary Fred Matiangi, last week appointed six new members to the organisation's board.
The appointments come after the formation of the authority in August, merging the Kenya ICT Board, Directorate of eGovernment and Government Information Technology Services (GITS), a move that aimed to consolidate all IT functions under the Ministry of ICT.
However Kamotho Njenga, secretary general, of ICTAK has taken exception to the appointments.
"Paragraph 6 (2) (e) of legal Notice 183 of 2013 provides that not more than six persons, not being public officers, be appointed, the Cabinet Secretary proceeded to include persons who are public officers as per under Article 260 of the Constitution of Kenya," he said in a statement.
Njenga also said the appointments are required to be staggered so the respective expiry dates of the board member's contracts fall at different times.
"Gazette Notice No. 404 blatantly contravenes the provisions of legal Notice 183 of 2013 as well as the Constitution of Kenya, thus rendering it legally flawed," he said.
Njenga said ICTAK was calling on Matiangi to revoke the appointments.
He said the ICT Authority should "convene a multi-stakeholder forum to chart a way forward for the implementation of Information and Communications Technology Authority Order, as thoughtfully propounded by His Excellency President Uhuru Kenyatta on 16th August 2013."