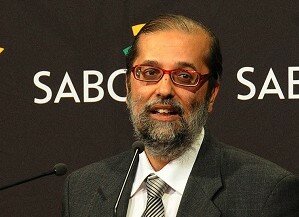 Yunus Carrim. CC image courtesy of GovernmentZA on Flickr.
South Africa's Department of Communications (DoC) has extended the deadline for submissions on the National Integrated ICT Policy Green Paper from February 24 to March 24, with public hearings to be held on March 3.
The Green Paper was gazetted on January 24, and the DoC has extended the deadline for submissions on its due to the number of requests it has received.
"The ICT sector moves very fast", said minister of communications Yunus Carrim. "There have been dramatic changes since our last policy reviews over 15 years ago. Previously we regulated telecommunications, broadcasting and postal services separately, in a silo fashion. But the convergence of technologies has since blurred the boundaries between the sectors. The same infrastructure can now be used to deliver voice, video and data. Different services can now be received using the same devices. Clearly, we need new policies and legislation."
The DoC said markets had changed over the last few years with the entry of new players, major technological developments and new thinking in how services can be delivered.
The Green Paper considers telecommunications; broadcasting; postal services; e-services, including e-government and e-commerce; cyber-security; e-literacy; and universal access and service.
"The growth of the ICT sector is crucial to our economic growth, development and job-creation goals. The Green Paper is aimed at encouraging the widest possible discussion among the stakeholders and the public generally on how we can significantly develop the ICT sector to ensure that South Africa becomes a more effective knowledge economy and information society in this increasingly digital age. We urge people to take part in the public hearings," said Carrim.
Those wanting to take part in the public hearings should contact [email protected]