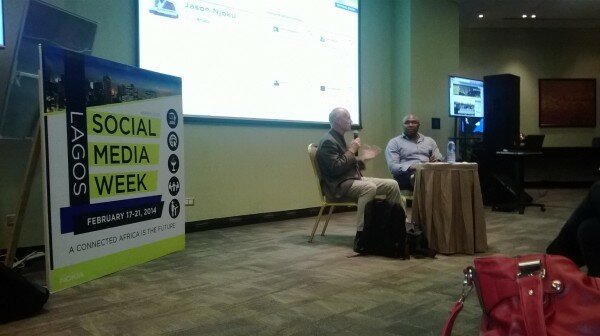 Jason Njoku (right), at the opening of Social Media Week (SMW) Lagos 2014
Jason Njoku, founder of iROKO, has identified the speed and cost of broadband as the major challenge the company is battling in Nigeria.
Speaking during the opening session of this year's Social Media Week (SMW) Lagos, which began today, Njoku said even though the company has generated about US$21 million in revenues, the amount could significantly increase if broadband was improved.
Currently, he said Nigeria accounts for less than 20 per cent of the platform's traffic, while non-African countries such as the United States, United Kingdom and Canada account for 70 per cent of revenues.
In regions where broadband access is available in Nigeria, he said the company is recording increased online activities.
"People consume more contents when they have broadband access as seen in business areas such as Ikoyi, Lekki. In Nigeria, peak hours are between 11am and 4pm suggesting that people are using broadband access at work to view our contents. This is further confirmed during weekends when we record very low traffic," Njoku said.
He mentioned current efforts aimed at reducing the cost and speed of internet access.
"In 2010, internet was super expensive and really slow but now we have improvements. One of our partners, MainOne, is doing great job in that aspect and we hope things will improve in broadband quality," he said.
He said the company does not face many problems when it comes to payments, with Nigerians willing to pay for services they love.