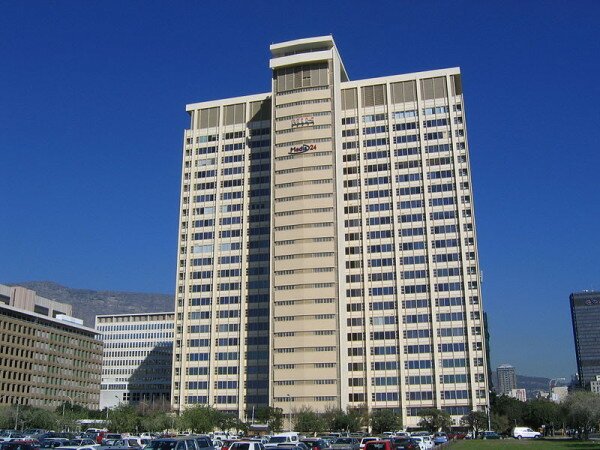 The Naspers office in Cape Town, South Africa.
South African media and e-commerce firm Naspers has announced chief executive officer (CEO) Koos Bekker is stepping down in April after 17 years leading the company.
Bekker, 61, was appointed Naspers CEO in 1997 but will now be succeeded by the company's head of e-commerce, Bob van Dijk.
"Koos will stand down from the Naspers board for a year to allow Bob the space to settle in with both Naspers top management and the board," Naspers said in a statement.
Bekker will remain on the board of Chinese internet company Tencent, in which Naspers holds a one-third stake.
The statement credited Bekker with participating in "four technology spurts" with the group, including the launch of pay-TV service M-Net, the 1991 launch of MTN, the start of the company's internet ventures in 1997 and its entry into e-commerce in 2008.
"Koos intends to travel widely and research where the group's next spurt of growth may come from, once e-commerce has reached maturity."
"We are also proud of the resonance our growth has in the South African economy, via the thousands of people we employ directly and the tens of thousands in the broader ecosystems of our businesses. We particularly enjoyed the new products and services our people invented," said Ton Vosloo, Naspers chair, who will step down from his position for Bekker in 2015.
"It's been fun," Bekker said. "I couldn't have wished for a more interesting life. Now I hope to travel to places like Seoul and San Francisco where the future is being manufactured, and see if there are new technologies we should be trying out. Plus experience a few oddball spots. When Ton steps down, I'll rejoin the board, hopefully with fresh ideas."
Van Dijk has previously headed up eBay Germany, and was chief operating officer (COO) of Schibsted's Classifieds.
"In view of our strong development focus on ecommerce, the board believes that Bob has the skills to lead us into the next phase of our growth," Vosloo said.
"Naspers is a great company and I'm honoured to lead an excellent team," said van Dijk.