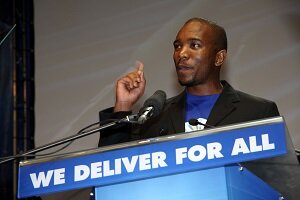 Mmusi Maimane, DA premier candidate for Gauteng. CC image courtesy of the Democratic Alliance on Flickr.
E-tolling has led to higher food prices for customers in the Gauteng province, regardless of whether they use toll roads or not, opposition party the Democratic Alliance (DA) has said.
Referring to a business presentation by popular supermarket chain Shoprite Checkers, Mmusi Maimane, DA premier candidate for Gauteng, said the chain had already paid over ZAR4 million (US$373,000) in e-tolls for its vehicles.
Maimane said this additional cost is increasing the price of products for customers regardless of whether they use the toll roads, and he predicted further economic impacts including job cuts.
"This information reveals the true cost of e-tolling; the fact that the system impacts everybody, whether they are road users or not," said Maimane.
"If this is the impact of tolling on one of the biggest produce suppliers in the country, it is likely that many others, both big and small, will also be forced to increase expenses across the board.
"Job losses linked to these increased expenses are sure to follow."
Maimane again vowed to fight e-tolling if elected premier of the province in the upcoming elections, scheduled for May, telling the public they should also fight it by voting out the government that "implemented this unjust system".
"The residents of Gauteng don't want and cannot afford e-tolling. Neither can they afford increases in the cost of food, other living expenses and job losses," Maimane said.
"Gauteng does not need a government that ignores these very real concerns."