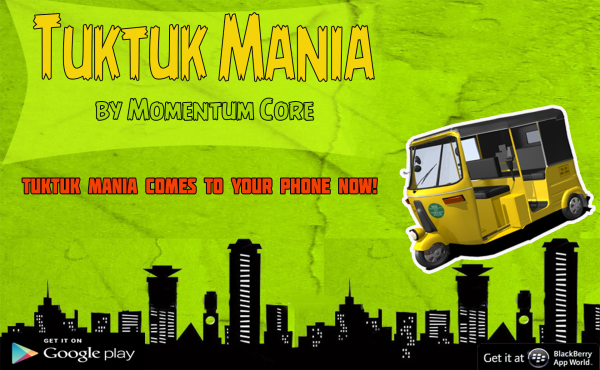 Kenyan mobile game developing startup Momentum Core has launched its latest game, Tuktuk Mania, with players racing through the streets in the popular three-wheeled vehicle.
In the new release, gamers are asked to drive a tuktuk for as long as possible without crashing into other cars. The further players get without an accident the more points they rack up.
"What makes it cool is that Tuktuk Mania is simple to play but still gives the player a good challenge," Momentum Core chief executive officer (CEO) Allan Mukhwana told HumanIPO.
"With the feedback from gamers we can consistently improve the game, and keep it being the best it can be. Ultimately, this will lead to better final game, and a better gaming experience."
The game is currently available in beta, with Momentum Core asking players to send in feedback on what new features they would like to see and any bugs they come across.
"At Momentum Core, we believe the whole point of coming up with a beta is to identify potential pitfalls, problems and challenges and resolve them before we release our games to the broader marketplace. This helps to enhance our games performance and make them failure free when they are launched on a larger scale with a high performance rate," the company said.
The controls of Tuktuk Mania are very simple, with users only tapping the screen of their mobile device to accelerate, and using their phone's tilt function to turn left and right.
The closer players pass to other vehicles the more points are awarded, with special checkpoints offering the opportunity to collect bonus points.
Tuktuk Mania is available for download on the Google Play Store and BlackBerry App World.
HumanIPO has reported frequently on a series of health-related games released by Momentum Core which have garnered significant popularity in the local market.
Malaria awareness game Mosquito Hood saw the startup partner with the Kenyan Ministry of Health, with gamers killing mosquitos and learning about malaria, while also "winning" treated bed nets donated by the ministry to families in affected areas of Kenya.
Momentum Core's next game Pamoja Mtaani provides a puzzle based game raising awareness about HIV and AIDS.