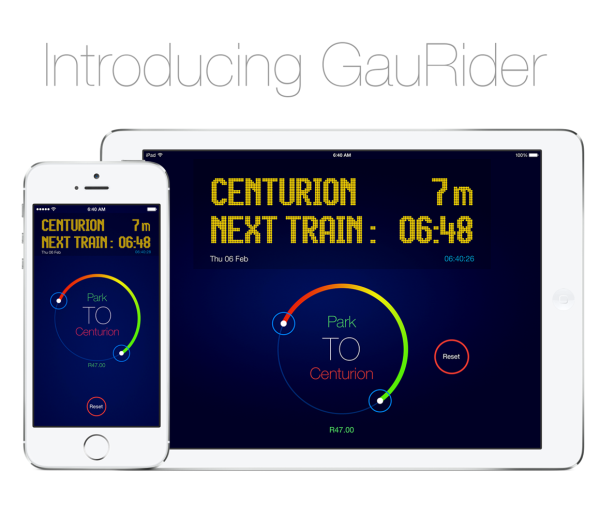 Independent South African iOS developer Litha Soyizwapi has unveiled a tracking app for Gautrain train and bus services, providing real-time information on the Gauteng transport services.
The GauRider 1.0 app allows users to access up to date information on the next Gautrain and buses available, on iPhone, iPad and iPod Touch devices.
"I'm really excited to unveil this brand new app. I've been working for over a year to ensure that the app is focused, beautiful, has an incredible polish, and it is a stable first release," said Soyizwapi.
"I can't wait to get this app to the hands of my fellow GauRiders, so that they can find the Gautrain and bus times quicker and intuitively."
Designed exclusively for the iOS 7 system, GauRider has a simple drag and drop interface for ease of use, and also boasts a "SmartData" feature which means the app does not use a consumer's data and is available both offline and underground.
"As an everyday user of the Gautrain service, I built GauRider for myself and for commuters who care about beauty, simplicity and functionality," he said.
"GauRider is a world-class train and bus time tracking app on iOS and the user interface is a delight to use."
He said there would be more "exciting features" coming to GauRider in the future, with an Android version of the app also under development.
GauRider is available for download on iTunes at the price of ZAR32.99 (US$3.10).