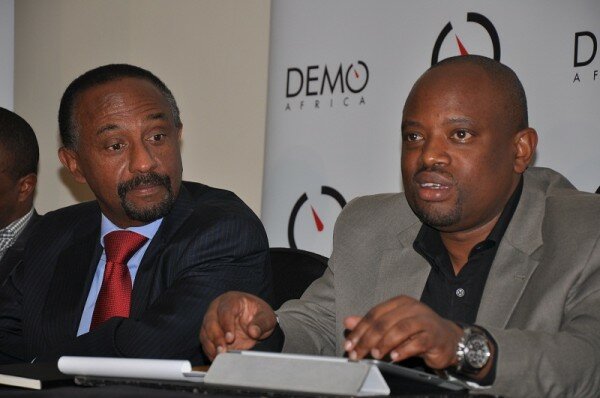 Harry Hare, executive director, DEMO Africa (right)
This year's DEMO Africa event will be held in Lagos, Nigeria in collaboration with the Nigeria Federal Ministry of ICT, the [email protected] Partnership, VC4Africa and Nigeria's National Information Technology Development Agency (NITDA), breaking the tradition of the event being held in Kenya.
To be held from September 22-26, the event will be spearheaded by a local organising committee unveiled by minister of communication technology Omobola Johnson.
It will be start with the DEMO Africa Bootcamp for invited startups and a strategic meeting of the [email protected] partners, culminating with a two-day DEMO Africa stage event.
Johnson expressed optimism in Africa's journey towards being a fully ICT-enabled continent.
"We are excited to host DEMO Africa 2014 in Nigeria. This presents a great opportunity to cross-fertilise ideas across African startups, as well as showcase our talents and skills in the innovation ecosystem," she said.
DEMO Africa executive producer Harry Hare stressed the importance of supporting technology startups and promised to equip the winning teams with all the necessary tools to promote their businesses.
"The teams will receive professional training and mentoring on demonstration and presentation, as well as support on their technical setup from our production team. These startups also stand to benefit from PR support and the promotion of the launch video during the event and beyond," said Hare.
He said such training has in the past proved fruitful in selling noble ideas by the startups during the previous annual conventions.
Technology startups have been invited to submit their applications between March 15 and June 18 2014, where the applications will be subjected to a panel of judges comprising key players in the ICT sector in July, who are expected to settle on the best 40 based on their ability to link creativity, innovation and effectiveness.
The teams with the most compelling products and business models will then be given a chance to launch their products to an ecosystem of investors, IT buyers and the global IT press.