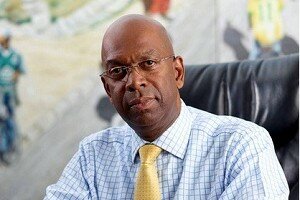 Bob Collymore, CEO Safaricom. CC image courtesy of Albert Kenyani Inima on Flickr
Safaricom chief executive officer (CEO) Bob Collymore is among over 700 CEOs, business leaders and financiers drawn from Africa and other continents to attend the Africa CEO Forum, which seeks to deepen economic integration and development in the continent.
Starting on March 17 in Geneva, the forum's main themes will be Africa's competitiveness enhancement, the place for African companies in major construction projects, the Africapitalism paradigm and the digital revolution.
There will also be eight knowledge sessions to demystify the trends related to company management and strategies to encourage its growth: agribusiness, extractive industries, and capital partnerships.
"These topics prove to be very relevant to businessmen and investors who wish to think 'out of the box'. The format relies on the tremendous experience of iconic CEOs and experts who will propose significant strategies in regards to the company management and identify key growth drivers in different sectors," President of the Africa CEO Forum Amir Ben Yahmed said.
Collymore will be in the company of the president of the Mo Ibrahim Foundation, Mo Ibrahim, chairman of Econet Wireless Strive Masiyiwa, CEO of Mara Group Ashish Thakkar, delegate director of Danone Emmanuel Faber, CEO of Maroc Telecom Abdeslam Ahizoune, CEO of Shoreline Energy International Kola Karim, and CEO of Ethiopian Airlines Tewolde Gebremariam.