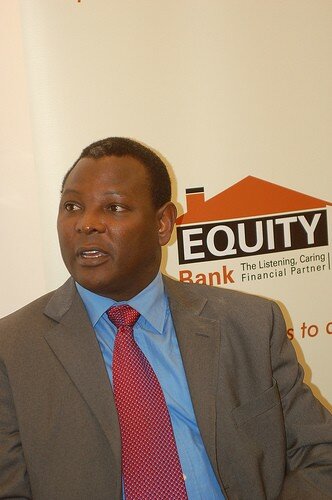 Dr.James Mwangi, Equity Bank Group chief executive officer (CEO) and managing director CC image courtesy of whiteafrican on Flickr
Kenya's Equity Bank has partnered with VFX Financial to launch a real-time, cross-border and multi-currency money transfer service between Kenya and the United Kingdom (UK).
With the Equity Direct Money Transfer service, both individuals and corporates in the UK will be able to send money to any Equity account in the region.
The service connects through VFX's proprietary digital payment gateway MoBe HUB, which enables instant credits in customer's accounts in Equity Bank.
"We are delighted to deliver such a convenient and transparent low cost remittance solution which results in more money arriving to Kenya from the UK faster and easily," said Nick England, chief executive officer (CEO) of VFX.
"The uptake of Equity Direct during the pilot has been very high. UK residents have been able to remit millions of shillings in the last three months of piloting. We therefore are positive this is what the market has been waiting for. A low cost remittance solution."
James Mwangi, CEO of Equity Bank, said: "Equity Bank is a key player in facilitating remittances to Kenya. We want our customers in and out of the country to have the different options of remittance that is most convenient to them.
"Equity Direct is focusing on the UK market as the UK is one of the key remittance corridors for Kenya. Equity Group has invested heavily in creating infrastructure for diaspora remittances, banking and transaction processing by connecting to all global payment systems as a result of installing a robust system that allows for the innovation of products and services that deliver convenience and affordability to our customers both locally and abroad."