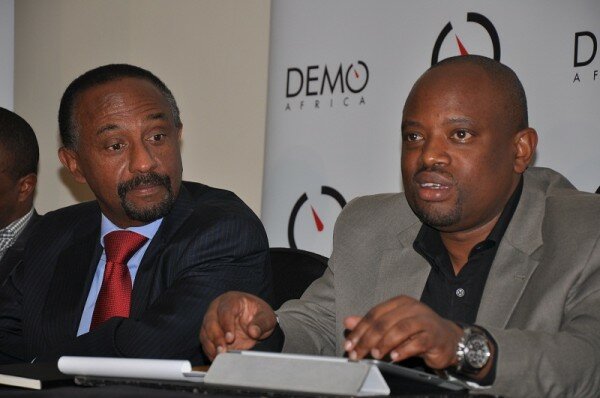 Harry Hare, executive director, DEMO Africa (right)
In February, it was announced this year's DEMO Africa startup event will be taking place in Lagos, Nigeria, signalling the first occasion on which the event will be held outside of Kenya. HumanIPO caught up with executive producer Harry Hare to find out the reasons behind the move, his thoughts on the tech startup ecosystem in Nigeria and his views of DEMO Africa's place in the African business scene.
HumanIPO: Why will DEMO Africa be taking place in Nigeria this year rather than Kenya?
Harry Hare: DEMO Africa is a continental initiative and therefore this is just a natural movement into the the continent. Our entry point was Kenya, but the vision to be able to go to every part of the continent. We had explored to host last year's event in Nigeria but both ourselves and the Nigerian government felt the country was not ready – the ecosystem was still in its early stages of development and DEMO Africa itself was still trying to get the model right. A year later, we feel a lot of changes have happened in Nigeria, there are more than five hubs operating and we see more startup activities in the country. The government is also playing a big role in catalysing the technology startup and innovation ecosystem and therefore it was easy for us to make the decision.
What is the tech startup scene like in Nigeria?
The startup scene in Nigeria is buzzing. In a few years we have seen increased activity from bootcamps to hackathons around tech startups. But I think what differentiates the startup ecosystem in Nigeria and Kenya and may be South Africa, is the government's full involvement and support of the ecosystem. For instance the government has seeded two incubators – one in Lagos and another one in Calabar – and brought in the private sector to mentor and coach the startups in those hubs. Several big name startups have also come out of Nigeria, names like Jobberman, Cheki and Maliyo Games keep on cropping up everywhere you go and these have sort of inspired other entrepreneurs to believe they can. A lot of the startups are focusing on retail, and this is natural given the numerical advantage that the country has, but we are seeing some startups in oil and gas, financial services and gaming.
Is there a general shift towards Nigeria?
I think any businessman worth his/hers salt cannot ignore Nigeria. It is estimated that by end of next year, the Nigerian economy will be bigger than South Africa. The country has invested heavily in infrastructure and perception issues and this seems to be paying off. Most multinationals who would have otherwise skipped Nigeria for another destination when thinking of west Africa are now seriously looking at setting up shop in Nigeria. So yes, there is some gravitation towards Nigeria and this is something that I see going on for a few more years to come.
Is there a bigger market in Nigeria than in Kenya?
Nigeria is by no means a bigger market than Kenya. But I think the numerical advantage in Nigeria is what makes the value proposition for most companies more exciting. Kenya has a well structured economy and good infrastructure and its geographical positioning in the continent is a huge advantage for any company that has a continental agenda. Nairobi is about 4 hours from any corner of the continent and therefore a natural place to host a hub. As far as money is concerned, there is much more money in Nigeria especially from the oil and gas industry. There is also more local mature VCs, foundations and and even angel investors in Nigeria than in Kenya.
Will DEMO return to Nairobi, or is this the start of a tour?
DEMO Africa is in Africa. We try to be everywhere in however small way. Either through the innovation tours or the investor roundtables or just participating in bootcamps, hackathons and judging competitions in different countries. The idea is to assist African startups achieve their break – either find investment and/or partners. We will surely return in Nairobi some time, not sure when. We have a mandate to cover Africa and that is our focus, so we will go where we see potential for impact and where we feel welcome.
Are you seeing more interest in the African startup ecosystem?
The short answer is yes. No day passes without an enquiry about the African startup ecosystem either from investors or entrepreneurs looking at setting up in Africa. Nairobi has benefited a lot from this, a number of shops owned by entrepreneurs from other countries have set up in Nairobi to take advantage of the pool of developers for mobile applications. Others have just come because of the buzz around the Silicon Savannah and this has sort of catalysed the ecosystem even more. As a result we are seeing the quality of startups and products from startups becoming more and more polished and marketable. But the collaboration between local and international entrepreneurs is what is even amazing and some of the products coming out of this group are truly world class.