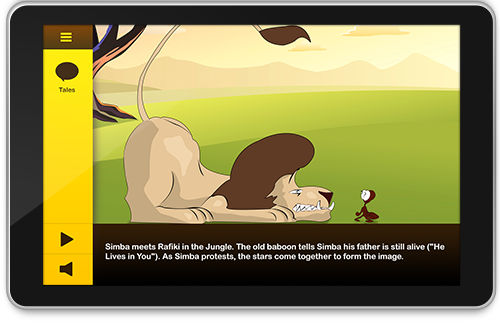 Kenyan startup AfroKidz is set to launch mobile app Safari Tales this week, aiming to solve the problem of book shortages by capitalising on high mobile uptake while also promoting childhood learning of vernacular languages through mobile stories.
The Safari Tales app makes African children's stories available via mobile using a range of mediums including text, audio and visual elements in an interactive manner, and includes a range of stories in local languages which have not previously been recorded in a written format.
In an interview with HumanIPO, director of marketing Richard Wanjohi said there is an urgent need for supplementary reading materials in Kenyan schools and home environments, and mobile technology provides the ideal solution to the shortage by making new materials immediately accessible at a lower cost.
"There is a problem of book access, most urgent in developing countries. The cost of storybooks continues to soar and most schools cannot afford to purchase any supplementary read materials," Wanjohi told HumanIPO.
"There is also a growing interest in reading material written in local languages both in schools as well as for parents who read to their children."
According to Wanjohi, the ability of mobile technology to combine different mediums of storytelling and the convenience and affordability of mobile access provide the ideal platform for additional reading material and language learning, both in school and home environments.
"Parents are already​ using mobile phones with a large proportion of mobile readers reading books and stories to children from their mobile phones. Mobile provides convenience and affordability to stories that schools, libraries and parents cannot afford to buy in large quantities," Wanjohi said.
"By using mobile, we are able to fuse elements such as text, illustrations or animation, narrations and sound effects. All these are very important to children learning a new language."
The interactive "read to me", "read to myself" and quiz elements of the Safari Tales app also provide a practical method for parents and teachers to monitor children's progress, Wanjohi said.
The developers of Safari Tales believe the app will be of far-reaching influence in terms of preserving linguistic and spoken-word elements of local cultures, and will also be of particular popularity with members of the diaspora looking to ensure their children keep up their mother tongues and culture.
"​By collecting and digitising stories from the various African communities, we are able to capture some narratives that have never been published in books. Very good examples are African nursery rhymes, tongue twisters and songs. The mobile will enable anyone in the world gain access to this content as fewer and fewer books are printed," Wanjohi said.
"An African parent living in the diaspora will be able to easily teach their child Kiswahili in a way that the child can fully understand due to the combination of text and audio."
The app will initially launch in English and Kiswahili streams, as well as local Kenyan languages. The team intends to launch in South Africa before the end of the year.
"In five years, we envision Safari Tales being the central point from which a community of people interested in the promotion and preservation of African culture will grow, this will transcend into offline products and services such as merchandise and events. There are plans to have the same content rendered for TV," Wanjohi said.
The free Safari Tales app will be available on the Google Play store by the end of this week.