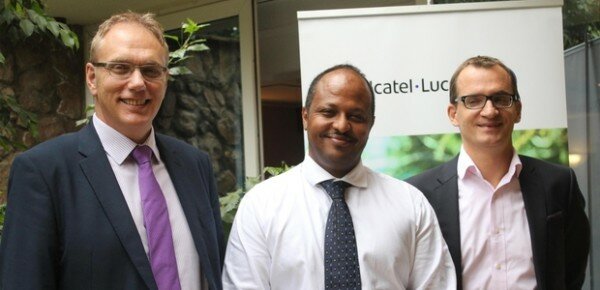 (L-to-R): Tony Wood, country senior officer, Alcatel –Lucent East Africa; Saeed Duale, board member, Somtel and and Daniel Jaeger, VP Africa, Alcatel-Lucent
Somtel Telecommunications and Alcatel-Lucent have announced a partnership to deploy an LTE network in Somalia, offering Somtel customers faster data speeds.
Speaking at the Nairobi Serena Hotel, Somtel board member Saeed Dauleh said it was the first company in the country to deploy 4G, with the main target young people.
"Somtel is the latest telecommunications company in the market, we wanted to differentiate ourselves in order to appeal to the youth," he said.
Dauleh said his company accounts for 33 per cent of the 1.5 million subscribers in Somalia, and was currently testing at sites in Kismayu and Daadab. 70 sites will be launched across the country though no date is yet set for an official launch.
"Somtel was one of the first operators to deploy 3G network in Somalia a few years ago. With the impressive uptake of the 3G network services, we have proceeded to deploy the 4G network which is expected to improve healthcare and education services through telemedicine and e-Learning respectively", said Saeed
Also present was Daniel Jaeger, Alcatel-Lucent vice president for Africa, who said LTE presents the best way to deploy broadband to the people.
Though he said his company had not been too active when it came to LTE deployment in African countries, he said it was currently in talks with operators in other countries over rolling out networks.
"We have a bit of catching up to do, we have not been the best in rolling out 3G and 2G networks in Africa," he said.
He also decried the lack of spectrum in most countries, which he said was the recurring challenge as far as LTE deployment is concerned.
Tony Wood, country senior officer of Alcatel-Lucent East Africa and head of Kenyan operations, said the 4G network is no longer the network of tomorrow but of today.