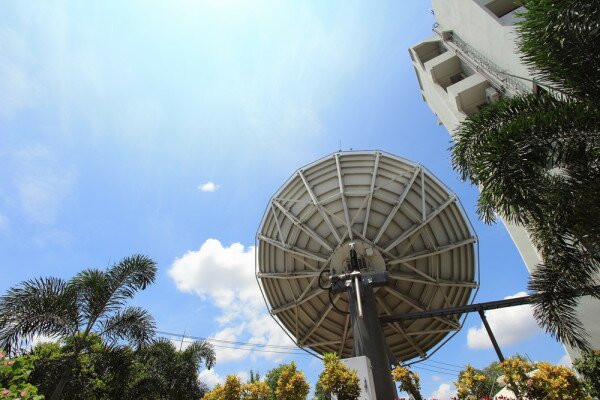 As TV white space technology gains traction across Africa as a viable solution for achieving universal internet access – with pilot projects springing up in Ghana, Kenya, Malawi, Tanzania, and South Africa – HumanIPO spoke to Microsoft's director of technology policy Paul Garnett about the potential of white space technology and the need for regulation in the sector.
HumanIPO: Is TV white space technology the way to bridge the digital divide across Africa? Why?
Garnett: TV white spaces technology is definitely an important part of addressing the digital divide, although it's not the only solution, it's fundamental to the mix. As seen by our pilot projects in Kenya, Tanzania, and South Africa, TV white spaces has already proved to play an important role in helping to reduce the cost of broadband access for the underserved.
Is it an affordable solution for providers, but also for consumers?
It's an affordable solution for both providers and consumers. For providers, the technology lowers the cost of running base stations to transmit and receive data. These cost-savings are then passed on to the consumer. Through our pilot projects we have been able to deliver broadband access for under US$5 per month, per user, on average. In many underserved rural and low-income areas where people are earning only US$500 per year, this is the most affordable access they can receive, much more than the expensive plans offered by mobile service providers. The bandwidth may not be as fast as that offered by mobile operators, but it provides access for those who would never be able to afford it, and that's our aim as part of the 4Afrika Initiative – to provide access for everyone.
Your pilots have often focused initially on covering the area of a university campus. Is white space coverage limited to this sort of range, or is it scalable to wider areas?
It is definitely scalable. In Kenya for example, the technology is servicing a large area, providing access to an entire community – schools, municipal buildings, and healthcare service providers. University campuses often make the most sense in terms of need, but TV white spaces are able to travel long distances over any terrain. The solar-powered base stations in Kenya have a range of up to 13km. On the university campuses in Koforidua Ghana, electricity supply is well established, so we probably don't need to rely on solar panels. But they can be used to reach further areas away from the campus, for example hostels and campus groups. In the Limpopo, South Africa, we are also looking at the feasibility of solar.
Microsoft has launched a number of white spaces projects across Africa. Have the results been different in different countries? Any lessons learnt? Where have trials been most successful?
As a whole, we are really pleased. It is still early days and we are busy implementing a series of tests and measurements with economists from Africa, the UK and US, to look at the socio-economic impact of white spaces over a period of 18 months. Already we are tracking important baseline measurements in the field. We already have a good idea of the impact on a micro-level, but on a macroeconomic scale, this study will help show the impact.
What are the obstacles or challenges to connectivity through white space tech?
During the initial prototyping phase, technology availability was a challenge, for example radio supply. But now we have manufacturers that are on second generation devices. In 12–24 month's time we will start seeing bigger Wi-Fi manufacturers coming to market with lower cost technology. This is very encouraging.
The other challenge is regulation. Although there has been an increase in interest from regulators in Africa, we haven't seen anything yet that puts fundamental laws and regulations in place. South Africa is the most advanced in this respect with ICASA very close to issuing a regulatory proceeding later this year. Hopefully, we'll see other African countries following. Although companies with temporary authority aren't prohibited from piloting the technology, regulations are vital for rolling the technology out on a broader scale. But any time you have a new technology the regulators are cautious. But as they can see it working and benefiting their people, they are becoming more confident. At the Dynamic Spectrum Alliance in Ghana this week, it was great to see regulators becoming more comfortable with white spaces technology. We received really good feedback from them regarding their regulatory approach.
Is white space technology in need of further regulation in African countries before progress can be made? Regarding what in particular?
As mentioned above, companies don't have to wait for further regulation to allow deployments to happen on a temporary basis. But, for the technology to progress, to be rolled out on a broader, nationwide basis, then regulation is absolutely necessary. Interestingly, the regulatory process in the UK, Canada and Singapore is being informed by proof of concept deployments being hosted in Africa. This is just another example of how Africa can accelerate technology for the world, which is the belief on which the 4Afrika Initiative is built. Africa no longer needs to take what is given by the developed markets, so it's a bit of reversal!
Is the need to gain (pilot) licences – such as obtained in Ghana – and similar regulatory requirements, hindering deeper research and testing of white space tech?
No, it's not hindering. I think once we get a chance to sit down with the relevant ministries and regulators and speak to them, we can build the right partnerships. To date, we've consistently been given permission to do deployments – we haven't had any regulator in Africa say no to this.
One operator launched white space tech in Kenya at the start of 2013. Why hasn't it taken off more extensively, if it has so much promise?
It's a simple issue of regulations. This is what is preventing the market to grow large enough to take off broadly. Bigger markets and broader scale needs the regulations in place to show certainty that TV white spaces can in fact, be a viable and established technology, and that it will flourish in the long run – this is what will attract further investment and enable the technology to grow. The industry needs certainty. But it's just a matter of time. Already, big players in the Wi-Fi market are investing in their own product development, and as the market grows – more companies will invest in taking the technology to the next level.
What else has Microsoft 4Afrika got lined up this year regarding white space?
We already have several projects underway in Kenya, Tanzania, and South Africa – along with recently announced partnerships in Namibia and Ghana. Across the world we have projects in multiple continents including the US, UK and in Taiwan, Singapore, and the Philippines. We also announced our involvement in a new pilot in Uruguay at the Dynamic Spectrum Alliance meeting in Accra.
Any other projects showing more promise?
In terms of white spaces we've been getting a huge amount of interest from both regulators and potential partners in Africa. We need to look into all these enquiries and decide which of these options are the most promising and move forward with them. In terms of the 4Afrika Initiative – this year has been a busy one for new projects including awarding innovation grants for five promising startups, starting an African wide internship programme, partnering with Regenesys University to provide 1,000 scholarships, and inviting four new youth members to the 4Afrika advisory council. A new volunteer programme is also successfully matching global Microsoft employees to skills development projects on the ground in Africa. We're really seeing some great stuff.
Image courtesy of Shutterstock.