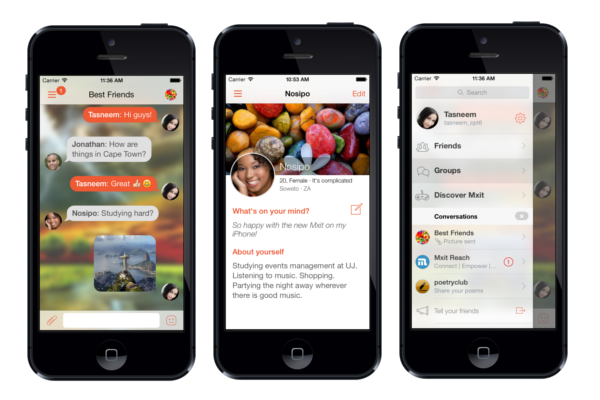 Images released by Mxit of version 7 for iPhone.
Removing porn and profanity from South African chat app Mxit has meant a decline in active users, as has the increasing prevalence of smartphones in the country, according to chief executive officer (CEO) Francois Swart.
HumanIPO reportedyesterday Mxit announced its latest version – Mxit 7, released last November – has been downloaded 7.4 million times, though the company reported a decline in monthly active users.
Swart told HumanIPO the company attributed this to the removal of explicit content from the site.
"We've spent a lot of time cleaning that up. Particularly around profanity words, we've cleaned that up a lot. It is very hard to find now, if at all. And that's had an impact with users complaining about not being able to find that. It's the kind of users you didn't really want to have on the platform," he said.
He said the fall in active users was also attributable to the increasing smartphone usage in South Africa, with Mxit being primarily geared towards feature phones.
"We are moving into a world of smartphones. If you look at us as a business we've always been focused on feature phones. We're on version seven on feature phones but we're only on version one on smartphones. We've not been working on smartphones for a very long time. In this transition you'd expect to lose a few users," said Swart.
Swart said Mxit had simplified the app a lot, particularly on the data use side, and spent a lot of time on memory issues, in order to attract more people to download it.
"And there's always a lot of new features. It's still a strong brand and still an app a lot of people want to use," he said.
One such new feature Swart confirmed is the availability of Mxit in 22 languages on Java from yesterday, with Android to follow next week. Eleven of these languages are Indian, with another from Africa and the Middle East, including Hausa and Swahili.
"We're trying to build a global business that can be localised in local areas. And one of the things is to have your app available in a local language," he said. The next step is to provide content and apps around that."