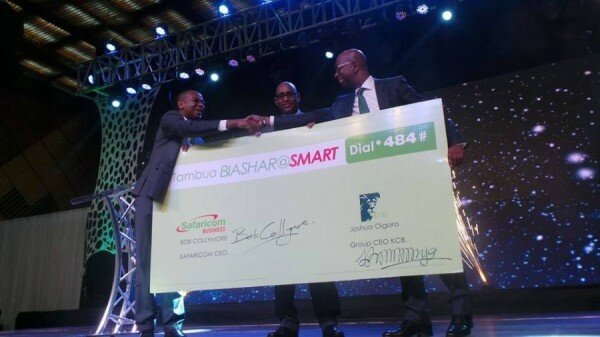 KCB CEO Mr. Joshua Oigara, Industrialization Cabinet sectretary Aden Mohamed and Safaricom CEO signing the agreement
Leading Kenyan telecom Safaricom and Kenya Commercial Bank (KCB) have formed a strategic partnership, with the first project a one-stop integrated solution that will cater to the needs of small and medium enterprises (SMEs) in Kenya.
Biashara Smart is a set of communications and financing products, capacity building initiatives and reward programmes aimed at connecting, empowering and growing SMEs, promising a credible and efficient way of doing business.
To join one can use any phone to dial *484# and choose the desired product, including accounts, loans, early invoice payment, mobile interest banking, cards, Zidisha Biashara and Lipa Na M-Pesa.
Speaking at the launch, KCB group chief executive officer (CEO) Joshua Oigara said Biashara Smart was a game-changer for the market given the SME sector employs 7.5 million people and accounts for 80 per cent of the employment market, while contributing 92 per cent of new jobs created annually.
"We recognise that SMEs are the engine of the Kenyan economy. Biashara Smart is a business preposition that helps businesses run efficiently and professionally while offering them tools hand financial access that will help them achieve their business goals," he said.
Safaricom CEO Bob Collymore said: "In the next few weeks we expect to offer our combined customer base the best-in-class of financial services and integrated communication solutions. I am a personal believer that the competitive landscape requires closer collaboration between organizations who share similar beliefs of providing transformative products and services to the Kenyan consumer."
The partnership is targeting 1 million SMEs in 12 months.