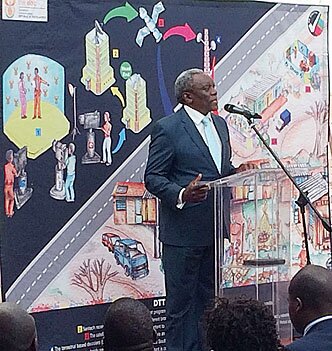 South Africa's Minister of telecommunications and postal services Dr Siyabonga Cwele
Tensions between South African minister of telecommunications and postal services Siyabonga Cwele and minister of communications Faith Muthambi are slowing the country's digital migration process, according to a report.
The Mail & Guardian reports Cwele missed a deadline for the end of July for his department to publish a new policy on digital migration due to a lack of consultation with Muthambi.
Sources told the newspaper a memorandum by Cwele on the implementation of digital migration was rejected by Cabinet because of objections from Muthambi.
"As soon as the proclamation [by President Jacob Zuma delegating responsibilities to different government departments] was announced, Cwele overnight wrote a Cabinet memo without consulting Muthambi," said a pro-Muthambi source. "Cabinet sent him back to consult with Muthambi."
Other sources told the newspaper relations between the two ministers have become strained, resulting in a stalemate over digital migration just eight months before the global deadline of June 2015, with the African National Congress (ANC) now wanting to intervene.
Part of the problem, according to the newspaper, is confusion over responsibilities caused by Zuma's decision to allocate the implementation of digital migration to Cwele's department while placing the South African Broadcasting Corporation (SABC), which will be greatly affected by the process, under Muthambi's remit.
Cwele's spokesperson Siya Qoza said the minister and his department were "determined to meet the commitments made in Parliament", and said he was unaware of any tensions between the two ministers.
"As the government, we are committed to doing everything possible to meet the June 2015 digital migration deadline. The broadcasting digital migration policy, which has been subject to extensive public consultation, is being finalised through Cabinet processes. Once the policy has been finalised, it will be gazetted and we'll issue a statement on the implementation plan of the policy," he said.
"In my experience, there are no tensions between the two ministers, but I cannot comment on what goes on in a Cabinet meeting."
Acting Cabinet spokesperson Phumla Williams also denied knowledge of any tensions, though the head of the ANC communications subcommittee Lindiwe Zulu said the party would engage the ministers to find a solution.
"We are worried about the continued delays. We raised this issue many a time," Zulu said. "All we are saying to ministers is 'we don't want to micromanage you, but we get concerned when this is delaying'. How long must we wait for people? They are our comrades, they need to get the things done. We cannot escape this, we have to migrate. It is not like we have a choice."