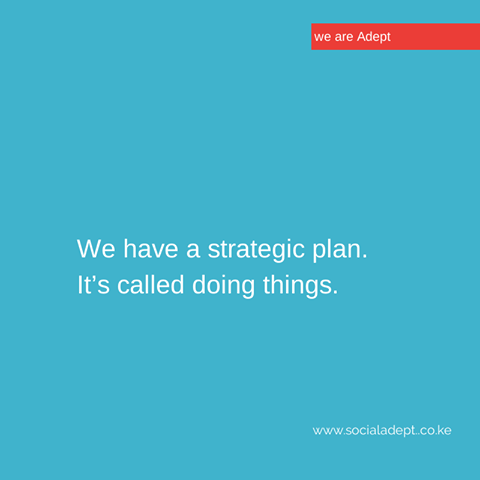 A Nairobi-based advertising company, Social Adept, has taken on the task of enhancing online visibility for both local and international companies using the now quite popular tool of social media.
The agency is for all kinds of businesses works to ensure that entrepreneurs, business owners and non-profit organizations understand and benefit from the advantages of a consistent presence in social networks, advertising their products and services at a global scale.
Additionally, they ensure that organizations maintain a more personalized contact with their clients and other business partners.
Speaking to HumanIPO, Social Adept founder Oliver Cheruiyot said that the two-year old agency basically works by delivering creative solutions at the intersection of marketing and technology.
"As an agency we deliver smart ideas that drive our clients' businesses, regardless of channel or geography. We support clients both in Kenya and outside," Cheruiyot.
Cheruiyot who also doubles up as the Chief Executive Officer thought his business would start and grow immediately but when this did not happen he learnt it's one step at a time and it's not always about the money first.
"Executing digital projects is still a challenge. Most Native clients have not appreciated the potential in digital they therefore allocate in-equivalent share of their marketing budgets," he said of his other challenge.
Despite there being other competitors in the same field Cheruiyot says that you have to do it smart again and again to make it into the future.
He added that the company partners and hires the best talent, this help them deliver creative work that sells.
"Any client will always invest in work that works," he said.
In the next five years Social Adept sees itself telling impactful stories of brands across all sectors from Tech, finance and banking, Tourism, Food and beverage, Automotive, Health and beauty and Real estate to the African audience.
"We are African and Africa is our business. We definitely are looking forward to growing to other fastest growing economies in Africa the likes of Ghana, Rwanda South Africa and Nigeria through franchise and partnerships.
"Most young business people are in a hurry, they have the idea but they don't have clear goals and vision. Not realizing that you can't do it all by yourself is also a challenge," was his parting shot to the other entrepreneurs.