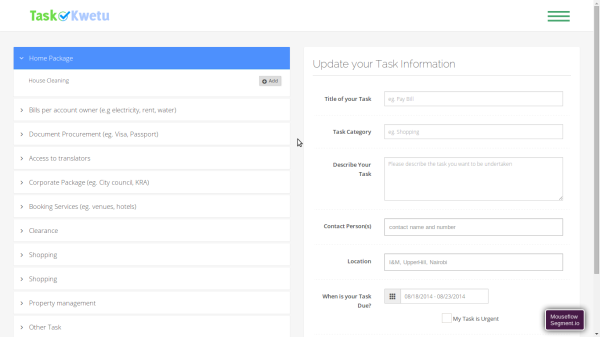 Today's life can be quite hectic and everyone would like to get a way to make their lives somewhat easier. A kenyan startup Taskwetu is doing just that for both its Kenyan and diaspora clients. HumanIPO caught up with the founder and managing director of Taskwetu Leila Khalif to shed more light on this.
HumanIPO: Overview of Taskwetu, how it works and so on, services available?
Khalif:TasKwetu is an online task management and tracking platform that enables users to delegate their tasks and track its progress. All a user has to do is order a task on our website taskwetu.com, either by describing the errand or clicking on the available list, pay the service charge and track its progress as TasKwetu gets the job done.
Who is your target for the service?
Our target customers are mainly the Kenyans in the diaspora but our services are also open to local Kenyans.
Why did you feel the need to come up with the service?
We constantly hear of how hard it is to get a simple task accomplished either because people are too busy and their errands are time consuming, they are far away from home, or the crazy Nairobi traffic, the list is endless. So we thought we should make Kenyans' lives easier (both home and abroad) by getting the job done on their behalf. So we came up with TasKwetu for Kenyans to easily get theirtasks done from the comfort of their laptops.
4. How much will it cost a person to use the service?
The minimum cost for a task is is $5 or ksh 430 per task. However the price may vary depended on various aspects of a task and this is discussed with the client before we embark on the task.
5. How do you get to use the service?
TasKwetu services are accessible through our online platform (taskwetu.com). A user signs up, creates a task or chooses one from the list of categories provided, pay the service charge through Mpesa, Paypal or other applicable payment services and track its progress as TasKwetu gets the job done. From his/her account, the user will see the list of tasks they've ordered and TasKwetu has accomplished or undertaken.
When did you launch it?
TasKwetu was launched on the 29thof August 2014 during the season 4 Nailab demo day.
How hard was it starting out?
Before we joined Nailab, getting the idea to take off was a huge problem. This is because our services and building a relationship with our customers are heavily dependent on trust.
Without the proper networks and training to show for our quality services, it was difficult to start TasKwetu. Thankfully, Nailab has equipped us with the proper skills and networks to show for our reliability to our customers. Also, other than the technical support, the financial boost from Nailab has facilitated the application of TasKwetu from an idea to a working service for Kenyans.
Is it on both mobile and internet platforms?
For now, TasKwetu is run on a web platform but in the future, we plan on it being available as a phone application too.
Once you have had a considering following are you planning to branch out to other countries?
Definitely. We see TasKwetu branching out to countries in East Africa and the rest of Africa, especially as a service for Africans in the diaspora. We are however working to proof the concept locally before we branch out.
How else will you raise revenues apart from the payments for the service?
For now, our main revenue stream is through the service charge on tasks. We are however looking to diversify the revenue streams through advertising.
Are you looking to work with partners at some point?
Yes. We have approached a few business institutions that have a heavy dealing with Kenyans in the diaspora to have the service packaged as a value add to the variety of services offered.
However discussions are still underway.
How big is your team?
For now, TasKwetu is made up of three people: Edwin Nderitu as the cofounder and business
Developer, Ian Juma as the web developer, Leila Khalif as the founder and managing director, and of course Nailab,who have had and continue to largely contribute to ways in which we can better our business models.
What are some of the challenges you have encountered so far?
the challenges we encountered since we started are mainly capital, reaching out to our target customers (mainly the kenyans in the diaspora) and web development of our online platform according to customer preference- it is ever changing.
Recently you were given Ksh 1 million, how are you planning to use it to better your
Business?
We are in the process of building a strong business analysis with Nailab to help determine the need areas in which the funds will be injected into for a start. However one of the areas is marketing as we need to create a strong online and physical presence for the company.
14. There are established players in the same field. How are you planning to counter competition?
We have three advantages over our competition:
Our services are not only for local Kenyans but also those abroad. Secondly, we provide a unique service which enables Kenyans to track the progress of their ordered tasks. Lastly we are in the process of integrating a project management into the platform.