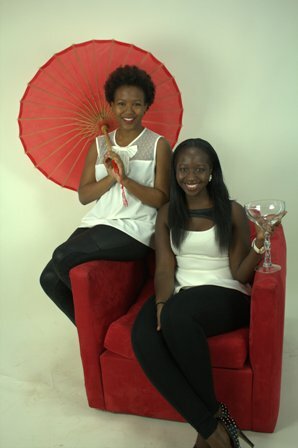 Modemara's Hellen Langat and Michelle Ouma
Kenyan duo of Hellen Langat and Michelle Ouma has set out to change the Kenyan fashion ecosystem by providing an online platform that addresses the problems of lack of exposure, expensive retail space and lack of formal networks that often stand in the way of local designers' careers.
Speaking to HumanIPO in an interview, Langat who is a co-founder said that they learnt of the above prevailing problems through a market research with both the consumers and the designers where designers had a difficult time getting their name out there and they did not have a central place where they could get industry news.
"Well we have 3 sections of audience. We have the talented fashion designers. The people who may want to network with designers such as stylists and other industry affiliates and lastly we have the public- individuals who may want purchase items from these designers thus supporting them," said Langat of the platform.
All these comes against the backdrop of the country's fashion industry in Kenya being very young but growing strong every year. There are new designers graduating from various fashion schools in Kenya yearly, people who have a passion for designing are launching their own labels and lastly you have the established designers who have been at their craft for years.
"The Kenyan perception of fashion is changing; this is evident from the growing number of fashion shows and fashion houses being established. An example is the local designer Katungulu Mwendwa who has showcased at New York fashion week and received international acclaim. We have come a long way because people are actually buying local products," said Lanagat.
"There are also various campaigns such as 100 days of fashion by Diana Opoti, where she wears a different African designer everyday for 100 days. It has been a huge success by talking more about the players in the industry. In all the fashion ecosystem in Kenya is truly shaping up to be a formidable one," she added.
Apart from the information and sharing platforms, Mode Mara also boasts an active shop that caters for people of all ages and genders looking for clothes, accessories, bags and footwear and whenever a successful transaction is carried out the company gets a 20% commission which is their main way of making money.
Buyers can buy from the site using Pesa pal which accepts all mobile money payments, including M-Pesa and Credit/Debit Cards.
"We have been boostrapping from scratch. It hasn't been the easiest road since we had to find a balance and be smart with the money that we have. We have asked family/friends to help us out and we are very grateful to them," Langat said of their capital.
"As for the after sales services, we're completely devoted to customer satisfaction. We have a 7 day free return policy, after receipt of the product in case customer is not satisfied. This is as long as products are still in the same condition as they were on sale. E give clients full concierge- to ensure they are satisfied with the process and always in the know," she added of their shop.
Apart from lack of capital the duo also did not have the know-how of running a business; executing a successful product from end to end in order to satisfy our customer.
"We thank Nailab in that they have taught us the skills to run our business such as carrying out market research, refining our business model as well as our business plan," said Langat.
Mode Mara was one of the startups being incubated by Nailab and during the accerlerator's Demo Day for Season IV, the startup got a Ksh. 1 million investment which they say that they will use to propel the business forward especially in areas of establishing a strong distribution network and hiring.
"We plan to at least have over 50 designers by the end of this year. In the medium term, we want to expand our list of member designers to include names and brands from all over Africa. We're also interested in setting up a distribution centre which will greatly improve our logistics," said Langat of their future plans.