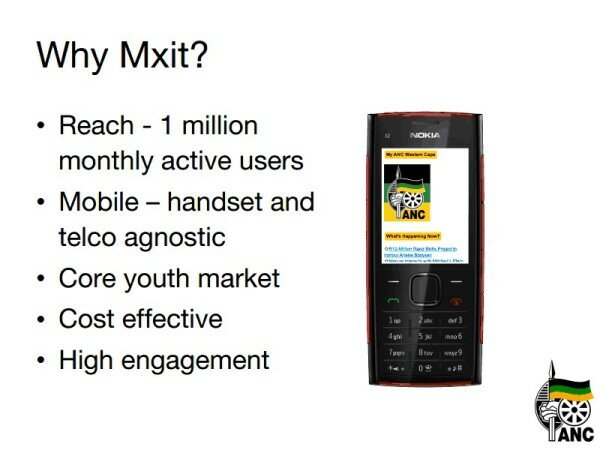 Ruling South African party the African National Congress (ANC) is experiencing success with almost half a million Mxit app subscribers, aiming to increase mobile election campaigns.
HumanIPO reported in May on the launch of ANC's Mxit app with the goal of increased engagement.
Two months later, the ANC Mxit app boasts 400,000 new members between the ages of 17 and 25.
Statistics were revealed by the ANC yesterday (Sunday).
Marius Fransman, chairperson of the ANC Western Cape, said: "This number is growing daily."
The app is part of the party's strategy to gain more votes in the Western Cape, where its numbers are lower in comparison to support in other provinces.
The South African national election is to take place in 2014.
Also active on Mxit, opposition party Democratic Alliance (DA) said education and jobs were top discussion topics from the youth's side.
Although also zooming in on South African youth, the DA generally targets to reach all countrymen through social media platforms such as Facebook and Twitter, as well as through Mxit.
Marian Shinn, shadow minister of communications at the DA, told HumanIPO she prefers using Twitter for interaction: "I use…Twitter to either share information from websites or to alert followers to an event or necessary action."
Speaking to HumanIPO, Phillip Dexter, spokesperson for the Western Cape ANC, said: "It's too early to tell about the votes, but we certainly see it consolidating our support.
Dexter believes the app's popularity is due to it being the platform young people are comfortable with, as well as the ANC's strong brand.
"Users are loving it and are making lots of suggestions, so watch this space," he said.
Sarah Rice, vice president of communications at Mxit, said: "If we look at the ANC's social media presence you can see that Mxit reaches far more people than any of the other channels."
Whereas ANC's Mxit app has more than 400,000 subscriptions, Facebook has almost 23,000 likes and Twitter followers are just under 64,500.
Rice said the reason for mobile social network popularity is its non-requirement of PC or smartphone posession for connecting with the ANC.
Mxit has been a popular platform for engagement since its launch in 1997, still going strong with 10 million active users.
Vincent Maher, chief marketing officer at Mxit, told News24: "The social media landscape in South Africa is in a state of flux where anything could happen. There is room for massive innovation and the war for market dominance is still raging.
"It's a good time to be playing in this space because nothing has been determined. The game is still on and anything could happen," he concluded.