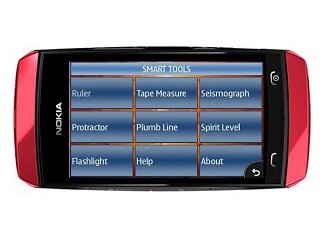 Image courtesy of Avelgood Apps.
IntelliTools is an all-in-one measurement tool application, which was developed by Avelgood Apps in Zimbabwe for the Nokia Asha smartphone platform.
Speaking to HumanIPO, Gift Gana, CEO of Avelgood Apps said he established the company in 2008 and IntelliTools, the "jack of all tools" application was officially launched in June this year.
Gana said the company changed its initial focus from a numerical library project to web development, and then to developing mobile applications.
"I started thinking about the concept for IntelliTools around November last year. Going through the Nokia Store I noted that there are a number of apps that implement the different tools that we have included in IntelliTools individually. I thought it would be great if I could make one app that includes all those measurement tools," said Gana.
IntelliTools encompasses seven tools, including a ruler, spirit level, tape measure or distance meter, protractor, seismograph, plumb line and a flashlight.
Furthermore the application utilises accelerometer sensors, touch screen and camera functionality on Nokia Asha smartphones, essentially transforming the mobile phone into a complete measurement tool.
Currently, IntelliTools is only available for the Nokia Asha smartphone platform.
"We noted that on other platforms like [the] Windows Phone, iPhone, [and] Android, apps…similar to IntelliTools already exist… So we decided to concentrate on Nokia Asha where we would face less competition as we would be [the] first to market with this app concept in that market segment," said Gana.
IntelliTools is available to download throughout Africa and worldwide since it is available through the Nokia Store.
"However, it is only available in English at the moment, but we will be adding more languages in due course.
"The greatest challenge we faced on getting IntelliTools on the market was to fix what turned out to be a small bug that was making it fail quality assurance. This delayed the publication of IntelliTools by four months as we first submitted the app to Nokia Store on February 11," said Gana.
Gana said when the application was tested in-house it would operate "perfectly" on their devices.
However, when it was initially submitted to the Nokia Store's quality assurance, errors showed up.
The problem was eventually resolved when the Avelgood Apps team discovered through Nokia Support the problem was simply the sensor applications programming interface (API) permissions, which Gana said is something that can be done in 30 seconds.
Other than adding more languages to the application, Gana said the team is working to add more features, which include a sound meter.