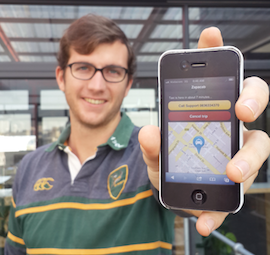 Rupert Sully, founder of Cape Town startup Zapacab.
Cape Town startup Zapacab has brushed aside the arrival of giant global taxi app company Uber in Johannesburg and have welcomed the challenge.
Zapacab launched its beta product two weeks ago and already has more than 100 certified cars signed up to the service with half of them fully trained and operating with the call devices in their vehicles.
Although currently focusing on Cape Town, the startup's founder, Rupert Sully, is visiting Johannesburg next week to explore potential partnerships and begin preparations for a rollout in South Africa's business capital.
Uber, meanwhile, was founded in San Francisco in 2009 and is already operating in 40 cities across North America, Europe and Asia Pacific. Johannesburg is its first African operation.
Speaking to HumanIPO, founder Rupert Sully said: "We definitely welcome the challenge and it is a great validation of the market.
"We are also interested to see how their American system will handle the unique African needs and differences.
"We also hope South Africans, and Africans when we move out to other countries, have a sense of loyalty to local startups."
While Uber's platform is built into a mobile app, Zapacab is a mobi site meaning it can be accessed from any device.
Concerning the beta rollout, product manager Matt Aberdein said: "We have kept it really simple.
"All you need to do is log on to the www.zapacab.com and enter your cell phone number. You then hit 'Zap me a cab', which then sends out your location to the nearest five certified drivers and the first one to accept will be able to pick you up.
"The customer is then able to track him on the map so you know how far away he is."
Sully has been pleased with the feedback from drivers and customers, but he emphasises the need for people trying out the service to enter legitimate phone numbers.
He told HumanIPO: "We urge the early adopters in Cape Town to realise that it is a live service and the drivers are really excited about it so we want them to use it seriously and put in real numbers.