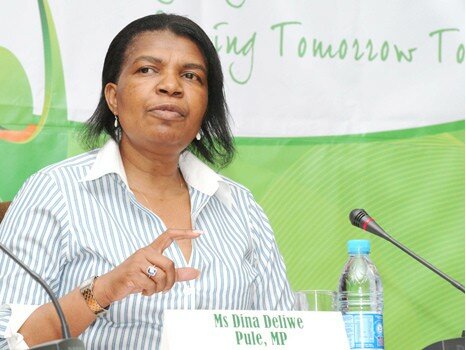 Former communications minister Dina Pule. CC image courtesy of GovernmentZA, on Flickr.
South Africa's disgraced former communications minister, Dina Pule, has become embroiled in an alleged assassination plot involving her reported boyfriend and the party colleague heading up a recent parliamentary investigation into her conduct.
HumanIPO reported last week parliament's nine member ethics panel, led by African National Congress (ANC) MP Ben Turok, had found Pule had "willfully misled" parliament and had not declared her relationship with Phosane Mngqibisa – a man who allegedly made millions of rands from sponsorship deals with the Department of Communications.
The Sunday Times has now reported that they spoke to a man who was contacted by Mngqibisa and asked to assassinate Turok and parliament's registrar of members' interests Fazela Mohamed.
The man, who was not named by the Sunday Times, told the newspaper: "I can also prove that Phosane Mngqibisa tried to create falsified documents to counter all claims sitting before the committee and the public protector.
"The hit to kill Ben Turok was issued to me as a specialist consultant. I was to recruit a hit man for the job. All plans were disturbed by the cabinet reshuffle that was made by the president last Tuesday. I have SMSes, e-mails and recordings to prove my claims."
Since the Sunday Times report, Turok has since confirmed to the South African Press Association that he had been assigned two bodyguards.
Turok said: "The head of Parliament's security came to see me and told me about the threats… we were in the middle of the hearings.
"It is a pretty miserable affair."