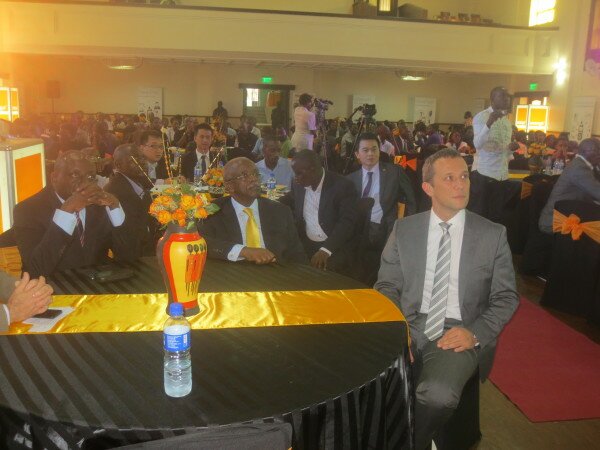 Right Huawei Uganda MD Radoslaw Kedzia During the Awards
Huawei and Orange Uganda partnered for the Community Innovations Awards 2013 that seeks to recognise university students who have successfully developed mobile apps relevant to solving community issues in the areas of health, education and agriculture.
The competition, which attracted 72 entries, shortlisted 20 applicants for the final with Huawei providing 50 Ascend y300 smartphones for the contestants to use for application development.
Speaking during the awards ceremony, Uganda's Prime Minister Amama Mbabazi asked the corporate sector to continue supporting the youth especially in acquiring skills and knowledge.
Radoslaw Kedzia, Huawei Uganda managing director, said the company would continue causes that seek to better the community, saying knowledge transfer initiatives were part of the company's strategy in the country.
"The Community Innovations Awards initiative has provided an excellent platform for the students to develop mobile apps that are relevant to meet community needs in the areas of health, education, and agriculture," Kedzia said.
"Developing local ICT talents through knowledge transfer initiatives are core in our CSR strategy for Uganda and Africa at large to help bridging the digital divide. As a global ICT leader, keen on innovation, encouraging young innovators is both a responsibility and an obligation for us."
The winner of the competition was awarded USH10 million (US$4,100) to develop and deploy their pilot application as well as a 12 month internship while the runners up received USH5 million (US$,2050) and a 12 month internship.
Third prize winner received US$,1025 and a six month internship.