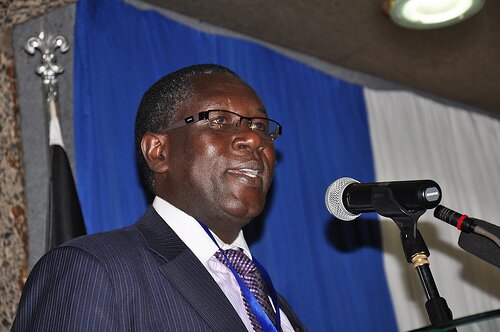 CCK Director General Francis Wangusi CC image courtesy of chimgimode2007 on Flickr
The Communication Commission of Kenya (CCK) move to subject the renewal of an operator's license to be based on an improvement of quality of service has received support from the Ministry of Information Communication and Technology.
Fred Matiangi, cabinet secretary for ICT, said the Ministry is satisfied with the regulators decision, saying he will not overrule the decision and told the networks to address their grievances to the CCK.
"You should go to CCK with your complaints before you write angry letters to us…you will find that you will resolve issues faster than coming to the Ministry first," Matiangi said
"We have listened to CCK and they make sense to us and therefore players should not politicise regulatory issues."
Matiangi added that the move was aimed at having a stable and predictable regulatory framework.
The CCK told Safaricom and other service providers last month that they will have to pay a KSh2.36 billion (US$27 million) fee in order to have its license extended for 10 years and unless Safaricom and others improves its quality of service, the license could be withheld.
However Safaricom's chief executive officer Bob Collymore was unhappy with CCK demand but would only make an official comment once the license details were published in the Kenya Gazette.
All operators except Essar Telecom paid KSh4.785 billion (US$54.6 million) for their licences of 15 years.
Essar Telecom, the youngest operator, paid a reduced amount of KSh2.35 billion (US$27 million). Safaricom's license renewal is up in June next year.
Last year both Airtel Kenya and Safaricom were not quality of service (QoS) compliant as they met five and four key performance indicators (KPIs) out of eight respectively. The CCK has set an 80 per cent minimum QoS compliance level.