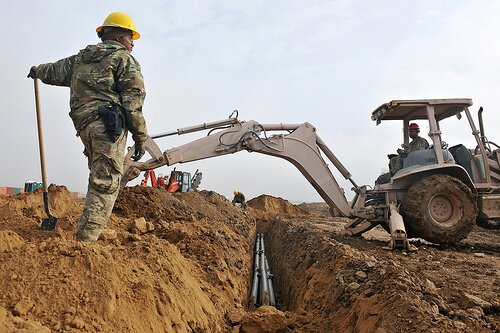 CC image courtesy of USAF Civil Engineering on Flickr
Kenya's network operators want road contractors to be slapped with heavy fines and penalties over rising cases of cable cuts and tampering during road constructions work.
The companies have noted the frequent digging up of communication cables by firms that are contracted to undertake road repairs in the country, which has led to disruptions and huge revenue losses.
Fred Matiangi, cabinet secretary for Information, Communication and Technology, said they are in talks with the roads, transport and energy ministries to come up with a framework to resolve the cable cuts issue, reports Standard Media.
The talks could soon see road contractors pay a levy for maintenance of telecommunication cables damaged during construction.
"By December, we will have a concrete legislation governing critical infrastructure," Matiangi said.
"We are in consultation with other ministries, professional associations and we are looking at the different options that we have as well as what happens in other jurisdictions."
Joshua Chepkwony, of Jamii Telecommunications Ltd (JTL), said frequent cable cuts have seen their customers experience downtimes that the operators have to compensate for by offering customers additional uptime when the connections are restored.
He added that ICT companies pass on the cost of repair works to customers and at the same time it limits their ability to expand networks to other areas.
"Road construction is destroying telecommunications infrastructure and we end up spending a lot in restoration of the networks. If this continues, connectivity prices will never come down," said Chepkwony.
The ministries are also suggesting the development of a standardised road construction system that naturally provides for cable ducts for future laying of cables.
A recent amendment to Kenya Communications Act and the Energy Act stipulates harsher penalties for cable vandalism.
Among other things the amendment proposes convicted vandals to serve 10 years in jail or pay a KSh10 million (US$114,000) fine.